Press release
Highways England working flat out to finish M6 to M5 link work by Christmas
Vital repair work to ensure drivers can safely use the busy link road off the M6 on to the M5 in West Bromwich should be complete by Christmas, Highways England announced today.
This news article was withdrawn on
This press release is no longer current.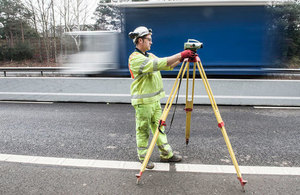 Although unforeseen circumstances have delayed the waterproofing work on the ageing viaduct, the company and its contractors are working flat out to finish the project as soon as possible.
Highways England Project Manager Jess Kenny explained:
We understand this has been frustrating for drivers, but unfortunately there was no way for us to tell the full extent of the damage until we'd already started work. We were only able to assess the true extent of the concrete damage and the steel corrosion inside the structure once we had removed the surface.

While the amount of damage is roughly as much as we predicted, the most damaged areas are over the parts which carry the weight of the viaduct, which are crucial to the integrity of the bridge. So repairs have to be done with painstaking precision and care to prevent the bridge becoming weak.

We have had to completely change our work plan, and only treat small sections of the road at a time which has lengthened the timescale of the work. But we are working hard to complete this as soon as possible.
The waterproofing work is being carried out between the M6 junction 8 at Walsall to the south and the M5 at West Bromwich.
Highways England will continue to work closely with Sandwell Council, Walsall Council, Wolverhampton City Council and Birmingham City Council to mitigate the effect of its work on drivers.
Diversions will remain in place throughout, and Highways England has committed to managing traffic to retain as much access as possible.
During full closures of the M5 western arm southbound traffic will be diverted along the M6 to junction 7 to access the M5 southbound eastern arm.
Diversions for the M6 junction 9 southbound entry slip road closure will be on the local road network to M5 junction 1 and to M6 junction 7. Diversion routes are agreed with Walsall and Sandwell councils, and will be fully signed.
More information on the scheme is available on Highways England website.
Published 6 October 2015