Press release
Highways England hops to it to find lost bunny
Eagle-eyed traffic officers will be reuniting a little girl with her much loved toy bunny after discovering it on the M1 near Sheffield.
This news article was withdrawn on
This press release is no longer current.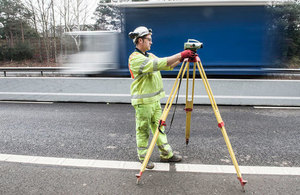 Phoebe Dixon, 3, was distraught when 'Inty' flew out of the car window as the family returned to their home in Gateshead following a trip away.
After Phoebe cried all the way home her mother Rebecca Dixon emailed Highways England with a desperate plea for its return.
The precious toy was eventually tracked down by Traffic Officers and will be returned to a delighted Phoebe later this week.
The distinctive white bunny, which Phoebe made herself, sports a purple princess dress and was discovered on the central reservation yesterday (Tuesday 9 June).
After sending the e mail Mrs Dixon was astonished to receive a reply saying that Traffic Officers on patrol had found the bunny and it would be returned.
Mrs Dixon, said:
Even though I had contacted Highways England I did not expect anyone to find it and considered it a massive long shot. There is enough going on on the motorway without people having to look for a lost toy. I am hugely grateful to the Traffic Officers who found it and cannot wait to reunite Phoebe with Inty.
Inty will be returned to Phoebe at a family celebration this weekend and Mrs Dixon plans to write a letter detailing the adventures the toy bunny has had - attaching the picture of Inty in the back of the patrol vehicle.
Traffic Officer, Andy Binns, said:
We were delighted to be able to help return Inty to Phoebe and hope the bunny doesn't have any further motorway adventures.
General enquiries
Members of the public should contact the Highways England customer contact centre on 0300 123 5000.
Media enquiries
Journalists should contact the Highways England press office on 0844 693 1448 and use the menu to speak to the most appropriate press officer.
Published 10 June 2015