Press release
Highways England goes out to tender on new style maintenance and response contract in the East Midlands
Highways England has published a tender for a new maintenance and response contract worth more than £300 million, and running for up to 15 years, in Area 7, the East Midlands.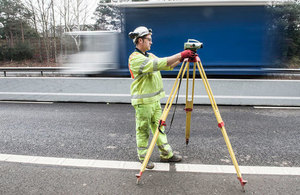 The contract will be the first under a new set of arrangements in the East Midlands which sees Highways England making a step change from its previous way of working, bringing key functions in-house to take direct control of its road network.
In a change from previous contracts, the successful bidder will be expected to have a directly employed workforce and the skills and capability to deliver the main contract requirements in the East Midlands.
The contract is the first of 4 in the East Midlands, with further contracts for design, capital works and specialist services to be tendered in the next 3 months. The contracts will all begin on 1 July 2016, once the current Managing Agent Contract with Aone+ has expired. The new contract arrangements in the East Midlands bring with them new employment opportunities, with Highways England looking to boost its in-house capability through the recruitment of new staff - with a significant number expected to transfer from the current Area 7 provider Aone+.
Jenny Moten, programme director for Area 7 future development, said:
This is significant change in the way we work in the East Midlands. For the first time we will be taking control of our roads, directly engaging suppliers to help drive down cost and waste, and providing the best possible value for money for taxpayers. This new way of working will help us develop a successful, long term relationship with the successful contractor for up to 15 years.
The new approach in the East Midlands will sit alongside existing maintenance contract arrangements across the Highways England network. Asset Support Contracts are currently being procured in the South East (Area 4), North East (Area 12, South West (Area 1) and the North (Areas 13 and 14).
The tender can be found online
General enquiries
Members of the public should contact the Highways England customer contact centre on 0300 123 5000.
Media enquiries
Journalists should contact the Highways England press office on 0844 693 1448 and use the menu to speak to the most appropriate press officer.
Published 4 August 2015