Highways Agency warns tailgaters that 'only a fool breaks the 2-second rule'
Drivers are being reminded to keep their distance as road safety charity Brake reveals that 6 in 10 drivers admit to risky tailgating.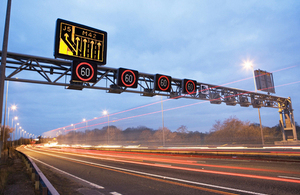 The survey, by Brake and Direct Line, also shows that 95% of drivers are sometimes concerned about vehicles driving too close behind them.
Simon Sheldon-Wilson, Traffic Management Director for the Highways Agency, says:
Safety is our top priority and we are committed to continuing to reduce the number of people killed and seriously injured on our roads. Congestion on our roads is estimated to cost the economy £3 billion each year, and a quarter of this is caused by the 430,000 incidents we deal with annually.

14% of casualties on our roads are caused by people tailgating. That's why we're reminding people to stay safe and keep at least a 2-second gap from the car in front.
The Driver and Vehicle Standards Agency's Chief Driving Examiner, Lesley Young, said:
Keeping a big enough stopping distance is crucial to staying safe, particularly in fast moving traffic when you have less time to react. Always allow at least 2 seconds from the vehicle in front, and at least double this in bad conditions.

Not doing so could have tragic consequences. If in doubt, remember the saying, 'only a fool breaks the 2-second rule'.

In dry conditions, drivers are advised to keep a 2-second gap between themselves and the vehicle in front. An easy way of doing this is by remembering 'only a fool breaks the 2-second rule'.
The 2-second rule
As the car in front passes a fixed point, such as a sign or a bridge, start to say 'only a fool breaks the 2-second rule' at a normal rate.
The phrase takes about 2 seconds to say, so if you pass the same fixed point before you've finished saying it, you're too close and should leave more room.
In wet conditions, this gap should be at least doubled. In icy conditions, it needs to be increased even further.
If you are being tailgated you should:
ease your foot off the accelerator
move into the inside lane, if it is safe to do so – make sure to apply the two second rule to any vehicle you move behind
Drivers are reminded that it is their responsibility to drive according to the conditions at all times.
Motorways in England have fewer fatalities than comparable roads in Europe, despite carrying more heavy traffic overall. But they are vulnerable to disruption when vehicles break down, crash, or lose their loads.
This video, presented by Sophie Raworth, explains more about the dangers of tailgating.
Stay Safe Keep Moving - 2 second rule
The Highways Agency urges all drivers to use its information services to plan their journeys, ensure their vehicles are properly maintained and ensure they have enough fuel to undertake their journeys before setting out.
General enquiries
Members of the public should contact the Highways Agency Information Line on 0300 123 5000.
Media enquiries
Journalists should contact the Highways Agency press office on 0844 693 1448 and use the menu to speak to the most appropriate press officer.
Published 22 May 2014