Press release
Highway Code campaign wins top award
A campaign encouraging road users to keep up to date with The Highway Code has won a Prince Michael International Road Safety Award.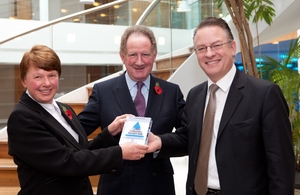 The campaign, run by the Driving Standards Agency (DSA) in partnership with its official publisher The Stationery Office (TSO), has helped transform The Highway Code from a simple book into a multi-platform road safety service.
The campaign started in December 2011 with the launch of The Highway Code on Twitter and Facebook, providing daily reminders of the rules of the road.
This was followed by the launch of digital editions of The Highway Code, including e-books and an official iPhone app.
The new formats help to make sure that all road users – not just learner drivers – know The Highway Code and stay up to date with the rules of the road.
Road Safety Minister, Stephen Hammond, said:
I am very pleased that our work to promote The Highway Code has been recognised with a Prince Michael International Road Safety Award. The Highway Code is the official guide to using the roads safely and responsibly and has been helping to save lives for more than 80 years.

It holds crucial information for everyone from experienced motorists and motorcyclists to horse riders and pedestrians. By keeping up with the times and embracing modern technology, The Highway Code is now more accessible than ever before.
TSO Chief Executive Officer, Marco Pierleoni, added:
As experts in digital content management, TSO is helping DSA to get the essential information in The Highway Code out to more people than ever before. We've expanded the number of high quality, multimedia formats that The Highway Code is available in, making it easy for all road users to access it in the way that they want, on the devices that they use every day.

The Highway Code is for life - not just for learners - and these new, innovative formats are helping people to refresh their knowledge years after they've passed their tests.
The Prince Michael International Road Safety Awards recognise achievements and innovations which will improve road safety. Each year the most outstanding examples of international road safety initiatives are given public recognition through the scheme.
Published 9 November 2012