Highlander helps find huge IED stash
Highlander Purves deployed to Helmand province in April with The Highlanders, 4th Battalion The Royal Regiment of Scotland (4 SCOTS). The soldiers…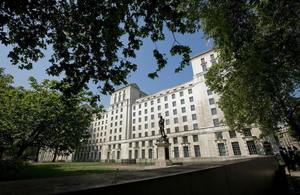 Highlander Purves deployed to Helmand province in April with The Highlanders, 4th Battalion The Royal Regiment of Scotland (4 SCOTS).
The soldiers regularly carry out joint patrols alongside their Afghan colleagues throughout their area of operations to deter insurgents and meet with local people. Highlander Purves, aged 23, is trained to use specialist equipment which helps to detect IEDs which may have been laid by the enemy on routes used by the soldiers.
Recently, Highlander Purves and some of his colleagues from D Company were attached to 1st Battalion The Rifles (1 RIFLES) carrying out a patrol in the Nahr-e Saraj (South) district of Helmand province, when they received a tip off that IEDs were being constructed in the area near their base.
Highlander Purves' multiple, working with 1 RIFLES and Afghan soldiers, carried out an operation to investigate the intelligence report. What they uncovered was one of the biggest collections of IED components found during Operation HERRICK 14.
Due to his skills, Highlander Purves played a lead role in the search for the items:
I was on the inner cordon which means I go in and secure the area before the specialist counter-IED team can thoroughly search the area. It was a good buzz going in first, disrupting the insurgents' ability to cause harm.

It was a long day though: preparation in the early hours, then the insertion, and then a long time guarding the find while the bomb disposal guys came in, but it was all worth it to catch these guys in the act.
This is Highlander Purves' first operational tour since joining the Army in 2009. He says he's enjoyed the experience, but not the heat:
We patrol mostly on foot through the green zone around various kalays [villages] building a good rapport with the locals.
The only difficult thing is that it is so hot. It's often above 40 degrees and when you are patrolling with body armour, helmet and other kit, it can be really tough.
4 SCOTS, like most British troops in Afghanistan, are working side-by-side with the Afghan National Security Forces. D Company has built up a close relationship with the Afghan National Police (ANP) and has been partnering them on various patrols and operations, helping to prepare them for when they take over security for the area themselves.
Highlander Purves said:
It's important the ANP keep these areas safe because it allows locals to live a relatively normal life and for their children to go to school. They have done a magnificent job and the locals' focus has now turned from security to development because they feel so much safer.
Published 18 August 2011