Highest quality of graduates going into teacher training
Details of an increase in the number of teachers with high-quality degrees, including highest number of physics graduates recruited since 1979 and more men than ever opting for career as a primary teacher.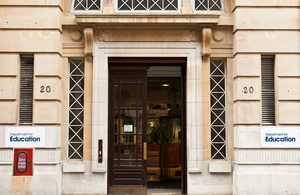 More than 7 out of 10 new trainee teachers now have a high-quality degree, according to latest figures published today (20 November) - the highest proportion ever recorded.
The data from the Teaching Agency reveals that 71% of graduates choosing to train for a career in the classroom now have a 2:1 or higher. This is a record rise of six percentage points compared to last year.
The quality of trainee teachers has improved in all the key English Baccalaureate subjects - including maths, physics, chemistry and modern foreign languages, which have been traditionally hard to recruit to.
Overall 66% of those entering teacher training in these shortage subjects now have a 2:1 or higher degree classification - up from 55% last year.
The data also shows that 900 graduates are expected to start training this academic year as physics teachers - the highest total since records were first kept by the Institute of Physics in 1979.
This demonstrates that the government's strategy to attract and train the best graduates as teachers is working.
Under the coalition government, many of the brightest and best graduates now receive a tax-free bursary of up to £20,000. The government has also launched prestigious training scholarships with highly-regarded bodies such as the Institute of Physics, the Royal Society of Chemistry and the BCS, the Chartered Institute for IT.
Education Secretary Michael Gove said:
Raising standards in our schools is at the heart of the coalition government's education reforms.

Having a high-quality teacher in each and every classroom is key to achieving this. Nothing matters more if we are to equip our young people to succeed in today's competitive world.

These figures show we are on the right track to achieving this, especially in those key EBacc subjects. These subjects give young people the knowledge and skills they need to progress to further study or to rewarding employment.
The quality of trainee teachers - those with a 2:1 or higher degree class - has improved in nearly all the English Baccalaureate subjects since 2010:
| | | | |
| --- | --- | --- | --- |
| Subject | 2010/11 | 2012/13 | Increase |
| English | 75% | 84% | 9pp |
| Mathematics | 51% | 62% | 11pp |
| Biology | 62% | 73% | 11pp |
| Chemistry | 51% | 64% | 13pp |
| Physics | 50% | 62% | 12pp |
| Modern foreign languages | 65% | 74% | 9pp |
| Geography | 69% | 75% | 6pp |
| History | 82% | 87% | 5pp |
Within the overall increase in quality, the percentage of trainees with a first class degree has also increased from 10% to 14% over the last three years.
Charlie Taylor, chief executive at the Teaching Agency, said:
Teaching has changed - it is now a career of choice for our top graduates. It offers a rewarding career for people with talent and ambition.

Parents can also be confident that we have the best teachers coming into our classrooms - vital if we are to help every child achieve their full potential.
The figures from the Teaching Agency's annual census also show that this academic year:
2,920 graduates are expected to train in science, meaning that the hoped-for number of 2,835 has been exceeded by three per cent.

1,170 graduates are expected to train in chemistry, exceeding the recruitment target by nearly 10 per cent.

1,630 graduates are expected to start modern foreign languages teacher training courses, meaning that the hoped-for number of 1,575 has been exceeded by over three per cent.

A record number and proportion of men are due to enter primary teacher training - 20% - up from 18% in 2010.
Charles Tracy, head of education at the Institute of Physics, said
This is excellent news for physics, for our schools and our children who will benefit from the experience, insight and enthusiasm that these top graduates will bring to the classroom.

The future of any subject relies on excellent people coming into the teaching profession. Teaching physics is doing physics - it is rewarding in its own right and backs up the growing popularity and interest in the subject, developing the physicists of the future and a physics-aware population.

The Institute is delighted to be working with the government on the teacher training scholarships. As these figures show, the scholarships encouraging more top class graduates to consider teaching physics and, we believe, they have helped us to put together the biggest and one of the most accomplished cohorts of trainee physics teachers since records began.
Dr Robert Parker, chief executive of the Royal Society of Chemistry, said:
We are delighted and encouraged by these statistics which demonstrate that the level of attainment and quantity of trainee chemistry teachers is improving significantly.

This is good news for the chemistry community, and great news for inspiring a new generation to take up careers related to chemistry. It will help drive the economy and work towards providing scientific breakthroughs to solve global challenges.

The situation will be even further improved by the new RSC teacher training scholarship scheme which will award £20,000 bursaries. This initiative will attract even more high-achieving chemistry graduates into teaching.
Notes for editors
This press notice relates to England only.

The government set out its reforms in the 'Training our next generation of outstanding teachers' strategy plans to raise the quality of teachers in England to match the best-performing countries in the world. This includes: * offering graduates particularly those with first-class degrees in physics, chemistry, maths and modern foreign languages significantly better financial incentives to train as teachers - up to £20,000. * extra financial incentives for trainee primary maths teachers and trainee teachers who work in the most challenging schools. * encouraging more primary specialist teachers to be trained through specialist training programmes. * the new School Direct programme allowing schools to lead their own high-quality teacher training.
* giving schools a stronger influence over the content of initial teacher training, as well as the recruitment and selection of trainees. * weeding out poor quality initial teacher training providers.

For further information on the census and findings: * Teaching Agency census and accompanying analysis report * The strategy and implementation plan

For more information on becoming a teacher visit the Get into Teaching website.
DfE enquiries
Central newsdesk - for journalists 020 7783 8300
General enquiries - for members of the public 0370 000 2288
Website: www.education.gov.uk/help/contactus
Published 20 November 2012