News story
Highest MMR vaccine coverage in 25 years
HSCIC immunisation statistics report shows that MMR vaccination in England by age 2 is at the highest level since its introduction in 1988.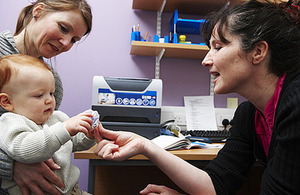 The Health and Social Care Information Centre (HSCIC) reported today (26 September 2013) that in 2012 to 2013, 92.3% of children reaching their second birthday received MMR vaccination, which is the highest recorded level since the vaccine was first introduced in 1988. The latest MMR coverage figure also shows considerable improvement from the lowest recorded figure of 79.9% which occurred in 2003 to 2004.
The World Health Organisation (WHO) recommends at least 95% of children are immunised against diseases preventable by immunisation such as diphtheria, tetanus, pertussis, polio, Hib, measles, mumps and rubella. This level has now been achieved for several vaccines including:
primary DTap/IPV/Hib immunisation by age 1 (95.1%)

primary MenC immunisation by age 2 (95.1%)

primary Hib immunisation by age 5 (95.4%)
Mary Ramsay, Head of Immunisation at Public Health England, said:
Routine vaccination in childhood is vital in protecting children from a range of infectious diseases, many of which have now been consigned to history. The findings from HSCIC's report are a good indication that parents and children are increasingly able to access primary care to receive these vaccinations and to protect their health for the years to come.

This is a good reminder to parents to ensure their child's vaccinations are up-to-date, and, if not, to contact their GP.
The report also reveals that coverage figures for most routine childhood vaccinations have increased nationally and in most regions, although some regional variation persists.
To check what routine vaccinations your child should have received visit the NHS Choices website.
Published 26 September 2013
Last updated 26 September 2013
+ show all updates
Revised summary for clarity.
First published.