World news story
High Performance Computing in the Era of Big Data
UK Science and Innovation Network in South Africa brings UK experts to the High Performance Computing Conference.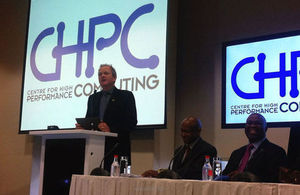 The South African Centre for High Performance Computing (CHPC) is hosting its seventh annual CHPC National Meeting from 2-6 December. The conference focuses on High Performance Computing (HPC) application for industry and on data adoption; and contains a variety of sessions including workshops, forums, oral presentations and research discussions. The contributions to the conference are from a range of research areas- from Health Sciences, Astronomy and Cosmology, Chemistry and Material Science, to industrial disciplines. This meeting brings together researchers, engineers, technologists, and industry players from around the globe. The is also a Student Cluster Competition between teams from various South African universities, at the end of the conference a winner will be announced that will represent South Africa at the International Supercomputing Conference's Student Cluster Competition.
Funded by the UK Science and Innovation Network's Global Partnerships Fund, ten UK researchers are participating in the conference to share their research and experience in the area of HPC and Big Data. Prior to the conference, there have been exchanges of HPC experts between South Africa and the UK to explore HPC and Big Data applications and the development of HPC capabilities for processing data from the Square Kilometre Array telescope.
These exchanges and the participation in the conference are part of a project which is facilitated by the UK Science and Innovation Network in South Africa, with the aim of increasing Science and Innovation collaborations between South Africa and the UK and creating new self-sustaining networks.
Published 4 December 2013
Last updated 4 December 2013
+ show all updates
Modified the summary
First published.