World news story
High Commissioner to Cyprus Matthew Kidd presents his credentials
The new British High Commissioner, Matthew Kidd presented his credentials to the President of the Republic of Cyprus on 30 June 2016.
Speech by the British High Commissioner at the Ceremony of Presentation of Credentials:
"Mr President, it was already a privilege and a pleasure to be appointed a first time to serve as British High Commissioner in Cyprus. During that first term, Cyprus underwent some of the most difficult moments of its existence; but by the time I left was already starting to prove that, with clear planning, determination and a cool head it could overcome these. It was a matter of personal pride to me that the United Kingdom was able to find practical ways to show its solidarity and support for Cyprus in this time of need, as friends should.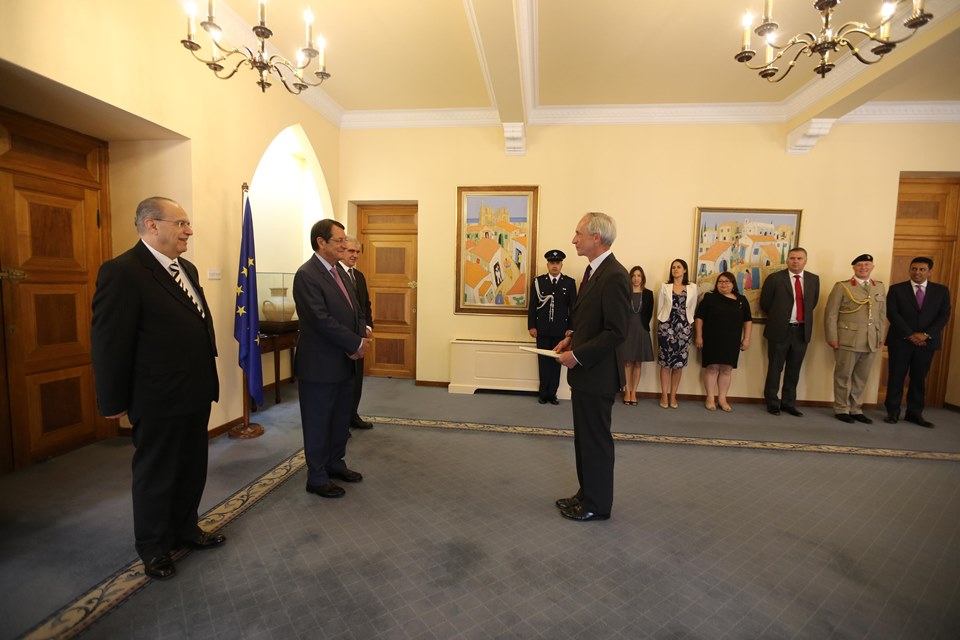 So it is a double privilege and pleasure to have been appointed here a second time. Even in the two years that I have been away, the thick web of collaboration and partnership between Cyprus and the United Kingdom has grown stronger, and has extended to more fields, as reflected in the team with me here today. Any two countries who have found that they vote together on 90% of the business of the European Union can be confident that they are to a high degree like-minded, and not just on the EU's agenda. Building on that like-mindedness to the benefit of both countries, will be a central goal of my second mission here. I hope that we can take forward our engagement in the fields of economic growth and prosperity; our collaboration in many aspects of security and defence; our shared Commonwealth membership; and our shared efforts to extend the huge range of personal links tying Cypriots to Britain and British people to Cyprus.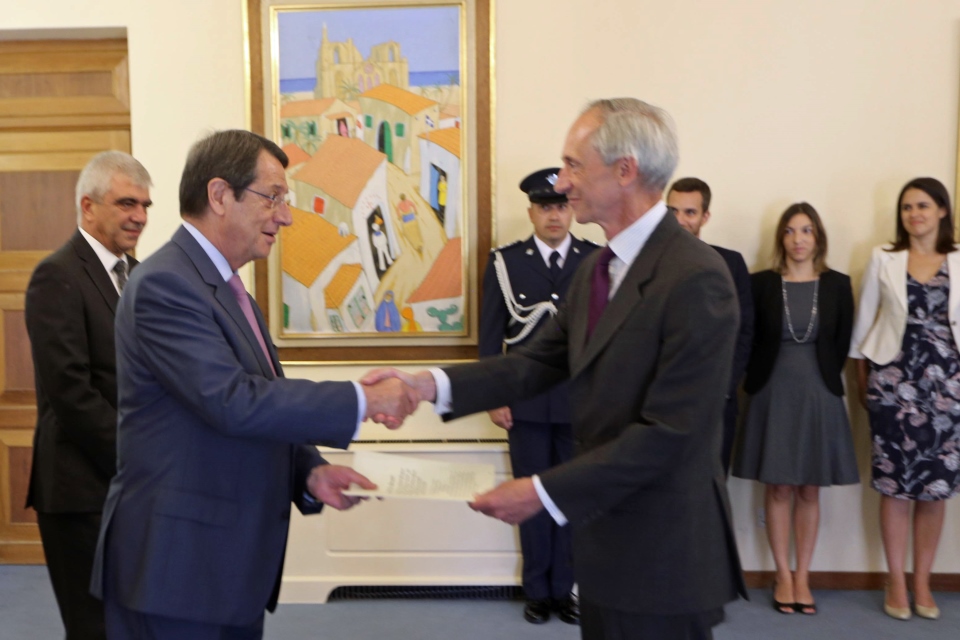 I believe I am also the first British Head of Mission anywhere in the world, certainly anywhere in the European Union, to take up office since the vote in last week's referendum in the United Kingdom. I know that there are a number of concerns here about the consequences for Cyprus. This second tour here will coincide with the period when it becomes clearer how these concerns will be met. I will work to ensure that the design of the United Kingdom's future relationship with the European Union does not weaken the bilateral bonds between our two countries, or reduce the scope for us to keep working together wherever we are like-minded.
At the heart of my second mission, though, will be support for the effort to achieve a settlement of Cyprus' own division. Your work, Mr President, and that of the Turkish Cypriot leader, have brought this goal significantly closer than when I left two years ago. The shape of a settlement that can be just, viable and lasting is becoming clearer. Your negotiations are steadily reducing the number of issues remaining to be settled, and are starting to build hope across the island that a solution is within reach.
It is easy to say that my Government supports your efforts. And it is true. But our support is expressed not just in words. You expect of us more than that. Always within the framework of a negotiating process under Cypriot leadership, we will seek to offer ideas where they can help; influence, where we have it; and practical experience, to help ensure that the many steps that will be needed to put a settlement into practice, robustly and durably, will be in place when they are needed.
It is a big task; and a big responsibility. I know that I have my Government's backing to make this support for the settlement process as active and helpful as we can; as the fullest possible way to express, and live up to, the bonds that unite our governments and peoples."
Read the press release here, PIO, Republic of Cyprus.
Published 30 June 2016