World news story
High Commission Canberra marks Armed Forces Day
The British High Commission held a reception today to mark UK Armed Forces Day.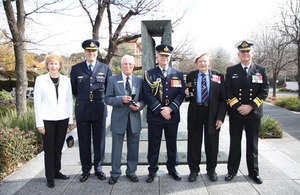 The reception was to honour former members of the British and Australian Armed Forces who were presented with the Arctic Star medal.
Air Marshal Mark Binskin, Vice Chief of the Australian Defence Force presented Jim Ford RN (rtd) and Captain Graham Wright RAN (rtd) the Arctic Star medal in a short ceremony.
Recognising the long standing bilateral defence ties, Deputy High Commissioner Tony Brennan said he was pleased that medals were be presented to members of the Armed Forces in the presence of the Australian and British defence communities.
Mr Brennan said:
"This is an important opportunity to recognise the sacrifices made by our serving armed forces and their families as well as our veterans.
"It was particularly moving to attend the Classic ANZACs v British & Irish XV rugby match in Brisbane last Friday for the British charity Help the Heroes and Australian charity Mates for Mates.
"This match is yet further evidence of the strong relationship between the armed forces of both countries."
The medal ceremony took place in the presence of Air Marshal Mark Binskin, Vice Chief of the Defence Force, recipients' family and friends, as well as UK veterans, representatives from the Australian Defence Force and Australian Returned and Services League.
The Arctic Star is granted for operational service of any length north of the Arctic Circle from 3 September 1939 to 8 May 1945 inclusive. The Arctic Star is intended to commemorate the Arctic convoys and is designed primarily for the ships of the convoys to North Russia and their Escorts.
The purpose of Armed Forces Day is to do two things. Firstly, to raise public awareness of the contributions made to the UK by those who serve and have served in Her Majesty's Armed Forces. Secondly, it gives the nation an opportunity to show support for the men and women who make up the Armed Forces community in its broadest sense, from serving men and women to service families and from veterans to cadets.
Armed Forces Day in 2013 will be Saturday 29 June in the UK and will be centred on Nottingham.
Published 28 June 2013