Hidden victims of recession show need for homeowners to seek help early
Communities Secretary Eric Pickles has today issued a reminder to struggling homeowners to seek help early to have a better chance of staying…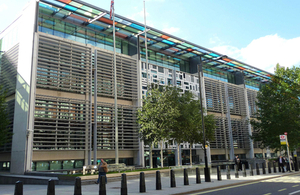 Communities Secretary Eric Pickles has today issued a reminder to struggling homeowners to seek help early to have a better chance of staying in their homes.
His call came on the day new research shows that the number of home owners who have given up their home due to financial difficulties has been much higher than solely shown by repossession statistics.
The research from the Centre of Housing Policy (University of York) shows that whilst thousands have lost their home through voluntary or compulsory repossession, many more people have been forced into selling their home, before any court action is taken against them because of financial difficulties.
The research shows that financial difficulties that led to home owners selling up were often triggered by relationship breakdown and other financial commitments such as loans secured on the property. They found that households often took out extra loans, or took the least helpful action to deal with their situation, because they acted without seeking help and advice to tackle their debts.
The findings come as new figures from the Council of Mortgage Lenders (CML) released today show that repossessions in the second quarter of 2010 were down by 400 compared to the previous quarter, and 20 per cent less than the same time in 2009.
CML have also today confirmed that they are revising down their original forecast for the number of households being repossessed in 2010 from 53,000 to 39,000.
Mr Pickles said that whilst the fall in the number of people losing their homes through official repossession action was welcome, the research demonstrated that many more homeowners had fallen victim to losing their home than is shown up in repossession statistics. He said that the findings strongly underlined the need for early action from homeowners to get help, take control of their finances and give themselves the best chance of avoiding losing their homes.
Communities Secretary Eric Pickles said:
Today's figures from CML are good news and an encouraging sign that fewer homeowners are facing the real and frightening prospect of repossession. But there is no room for complacency - struggling homeowners must take early advice to have the best chance of staying in their homes.

I am determined that those who need help are able to get it - and that includes the need to tackle the record budget deficit to avoid the need for rapid increases in interest rates.

Today's research lays bare the many hidden victims of the recent recession, homeowners who have given up and left home ownership, when getting practical advice before matters got too overwhelming might have kept them in their homes. That's why we are working with organisations like Shelter and Citizens Advice so people know where they can go to get a grip on their finances and can make informed decisions about their future.
Latest figures also published today show that one of the schemes aimed at helping the most vulnerable homeowners, the Mortgage Rescue Scheme, has helped 2100 households avoid the immediate threat of repossession, with 980 homeowners having completed the full process since the scheme's launch in January 2009.
Notes to editors
Twitter
Keep up to date with the Department by following us on Twitter (external link).
Media enquiries
Visit our newsroom contacts page for media enquiry contact details.
Published 12 August 2010