Heroic deeds on operations honoured
Members of the Royal Navy, Army and Royal Air Force have received some of the highest awards for gallantry in today's Operational Honours and Awards List.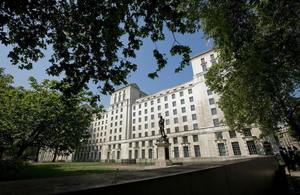 Amongst the 131 awards announced today were 10 Military Crosses. One of these is for Medical Assistant Liam O'Grady, a Royal Navy medic who saved the lives of four colleagues after they were seriously injured in Afghanistan following a grenade attack.
A Military Cross is awarded in recognition of exemplary gallantry during active operations against the enemy on land.
Medical Assistant O'Grady, aged 21, had been in the Royal Navy for just two years when he was sent on his first deployment to Afghanistan in the summer of 2011. He was attached to an Army patrol occupying Checkpoint Richka, a tiny compound in the Green Zone of the Upper Gereshk Valley.
The incident which has earned him a Military Cross involved him, despite shrapnel wounds to his leg and face, running across open ground while grenades were exploding around him to drag his stricken patrol sergeant to safety.
He gave immediate lifesaving treatment to the commander who had severe wounds to his chest and abdomen before going on to attend to three other badly wounded men, two with severe injuries to their legs and one with shrapnel wounds to his face.
It was only after the commander had been extracted by helicopter and he had helped carry the further three casualties 800 metres uphill through hostile territory that he allowed his own wounds to be treated. Medical Assistant O'Grady said:
We were all really close as there was only ever about 13 of us together at any one time so you get to know each other really well. When we came under attack from the grenades I was on the radio and immediately shouted to them that we had an emergency.

I had sprinted out to get my first aid pack when I saw that the patrol sergeant was lying on the ground and in real trouble. He was struggling to breathe and there was a significant amount of blood loss.

The shrapnel had penetrated his chest and lung and I knew I had to try and get some fluids and morphine into him; it's to his credit that he was a strong man - he was really fighting for his life.
I knew my leg was bleeding and it hurt to put any weight on it, but it was my job to help these guys and I think that instinct just took over.
According to his citation Medical Assistant O'Grady displayed 'exemplary gallantry, selflessness and devotion to duty'.
His 'instinctive bravery and total disregard for his own safety, followed by exceptional handling of a mass-casualty situation as a lone medic while wounded and under threat of further attack' undoubtedly saved the life of his patrol sergeant.
Medical Assistant O'Grady added:
When they told me I was getting a Military Cross I think I went into shock, I was so surprised. There were so many people there that day that helped carry the stretchers that carried the medical equipment that fired back at the enemy - it was a team effort so in my mind I am accepting this on behalf of them all.
One of the Army's oldest forms of recognition for gallantry, the Mention in Despatches, has been awarded to Manchester hero Warrant Officer Class 1 Jonathan Lane from the Army Air Corps.
Since 1993 the Mention in Despatches has been reserved for gallantry during active operations. WO1 Lane, aged 37, is receiving the award for his actions during an Apache helicopter mission over Libya when he faced off a Libyan ground-to-air missile attack.
WO1 Lane was the front seat aircraft commander in the second of a pair of Apache helicopters directed to target an enemy command and control centre between Misurata and Zlitan. As the helicopter began its attack run, WO1 Lane was engaged by an SA-24 surface-to-air missile.
Holding his nerve as the missile soared towards him, he was able to identify its firing point before using the aircraft's flares to decoy the missile and return fire.
WO1 Lane, who has a nine-year-old son Ethan, with wife Claire, feared he would never see them again in the seconds before the flare drew the missile away from the Apache. He said:
It all happened really quickly, probably about five to six seconds, but, as I saw the missile heading for us, I did think this could be it.

Although I had come under small arms fire and anti-aircraft artillery attack before, this was the first time I had experienced a surface-to-air missile and, despite going through that scenario in a simulator, it was a real shock.

The flare was deployed and I watched as the missile swerved at the last second. The adrenaline was pumping, my heart was thumping out of my chest. There was a sense of tremendous relief, followed by the realisation that it could happen again, so we broke away from that zone but still had another aircraft engaging the target in that area.
WO1 Lane then had to make the decision to go back, identify the enemy and neutralise the threat. He added:
It was very frightening. We had got away with it once. We did not know what else was there but knew the assets the enemy had access to. But because of the kit on the aircraft, we had been able to pinpoint the enemy position quickly after they fired on us. We found a rocket launcher which had been used to shoot at ships off the coast and destroyed it.
His actions allowed the helicopters to carry on with their original mission before returning to the missile firing point to destroy its capabilities.
The citation for his actions states:
During this time, he was both accurate and discriminatory in his use of force while placing himself and his aircraft in genuine danger of a further SA-24 engagement.
Flight Lieutenant Jonathan Singh, a Chinook pilot in the RAF, has been awarded a Distinguished Flying Cross. This award is made in recognition of exemplary gallantry during active operations against the enemy in the air.
His award is for his actions during a helicopter assault with the Brigade Reconnaissance Force (BRF) onto a suspected improvised explosive device factory in Afghanistan last June.
The factory was located in a high-threat area with few coalition troops on the ground. Not wanting to leave the BRF with only half its strength on the ground, Flight Lieutenant Singh displayed exceptional courage by continuing with landing and disembarking his troops.
Within seconds of touching down, the aircraft came under heavy fire, but Flight Lieutenant Singh remained on the ground despite bullets impacting all around him, including one which hit the cockpit two inches (5cm) below his right foot.
Once all the troops were off the ramp, he discovered his helicopter had suffered severe control damage, making it almost unflyable. Using the full force of both hands on the flight controls, he eventually managed to nurse his aircraft to the relative safety of the open desert.
However, poor weather conditions in the desert meant that the only safe option for landing would be to fly to a nearby patrol base. The helicopter was so badly damaged that Flight Lieutenant Singh could not achieve a safe landing within the base.
Carefully co-ordinating his co-pilot to fly the collective control lever, and using all his strength to control the aircraft, he was able land the aircraft close to the patrol base and provide his crew with the necessary protection.
See the full list of honours at Related Links. **More stories about the recipients will be published on the MOD website over the coming days.**
We need your help! We are trying out designs for a new single website for all of government and we'd love your feedback. Please visit the 'Government beta site' by clicking on the link under Related Links.
Published 23 March 2012