News story
Her Majesty's Non-Resident Ambassador to the Somali Republic
Mr John William Matthew Baugh, UK Senior Representative for Somalia has been appointed Her Majesty's Non-Resident Ambassador to the Somali Republic.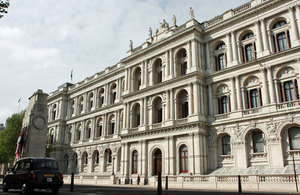 He will be located in the British Office for Somalia within the British High Commission in Nairobi. Mr Baugh will take up his appointment with immediate effect.
Mr Baugh is a career civil servant and is on secondment to the Foreign and Commonwealth Office from the UK Department for International Development. He has spent much of his career dealing with conflict, security and humanitarian issues. Since 1999 he has worked in Iraq, Sudan, Afghanistan and the Balkans, as well as a number of major relief operations and protracted emergencies. He also helped to set up and lead the UK's Post Conflict Reconstruction Unit, now the UK Stabilisation Unit. He is a graduate of the UK Joint Services Command and Staff College's Higher Command and Staff Course (2010) and was previously Principal Private Secretary to the Secretary of State for International Development (2008-9).
On his appointment as Her Majesty's Non-Resident Ambassador to the Somali Republic, Mr Baugh said:
"I am deeply honoured to have become the first British Ambassador to Somalia for 21 years. This further demonstrates the UK's commitment to the people and country of Somalia. "
Curriculum vitae
Full name:
John William Matthew Baugh (Known as Matt)
Married to:
Dr Caroline Baugh
Children:
3
May 2010 - Present
UK Senior Representative for Somalia, British Office for Somalia
Jan 2010 - April 2010
Student on the Higher Command and Staff Course, Joint Services Command and Staff College
Jan 2008 - Sept 2009
Principal Private Secretary to the Secretary of State for International Development
June 2006 - Sept 2007
DFID, Head of Iraq Department
Jan 2005 - May 2006
Head of UK Post-Conflict Reconstruction Unit
Nov 2002 - Dec 2004
Khartoum, First Secretary
Sept 2001 - Oct 2002
DFID, Head of Afghanistan Crisis Team
July 2000 - Oct 2002
DFID, Head of Humanitarian Policy and Global Response Team
April 1999-July 2000
DFID, Head of Kosovo Crisis Unit
Published 2 February 2012