World news story
Her Majesty The Queen's 90th birthday celebrations in Tonga
British High Commissioner to Tonga, HE Mr Roderick Drummond hosted Her Majesty The Queen's 90th birthday celebrations in Tonga last Friday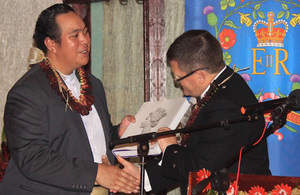 British High Commissioner to Tonga, HE Mr Roderick Drummond hosted Her Majesty The Queen's 90th birthday celebrations in Tonga last Friday, 10 June at the Vakaloa Beach Resort.
Following is the High Commissioner's address at the event:
Your Royal Highness the Crown Prince and Crown Princess Your Royal Highness the Princess Pilolevu and Lord Tuita Your Excellency the Honourable Prime Minister of Tonga, Nobles of the Realm Ministers of the Crown Honoured Guests, Ladies and Gentlemen
Maalo e leilei
It gives me great pleasure to welcome you here this evening to our Queen's Birthday Party, celebrating the 90th Birthday of Her Majesty Queen Elizabeth II.
But first I must mention the recent birthday of another very special person, Her Majesty the Queen Mother of Tonga Halaevalu Muta'aho. I know her birthday was a splendid occasion, for which many Tongans returned home to join the festivities, and to pay her well-deserved tribute.
I am sorry I was not able to join those celebrations, but I can imagine the warmth and good humour of the events. Yasmin and I count ourselves privileged to have been able to visit for His Majesty's Coronation last year, and his birthday celebration in Vavu'u the year before. These were Tongan memories that we will treasure forever.
Her Majesty Queen Elizabeth, and the Duke of Edinburgh, sent a special message to the Queen Mother a few weeks ago. That message commented that "the proximity of our birthdays makes us reflect on the way the history of our two kingdoms are intertwined – and we hope always will be."
For the United Kingdom and the Kingdom of Tonga continue to share many special links, despite the geographic distance between us. Our island kingdoms had a treaty of friendship that benefited both peoples.
We share great sporting traditions. I was delighted to hear that the Tongan archers have qualified for the Rio Olympics. Tonga holds a special place in the hearts of rugby supporters like me, always playing with pride and passion, often the underdog (like my team, Scotland). Of course, some Tongan players have made their mark playing for other nations, like the Vunipola brothers for England, and Mr Faletau for Wales. I am a little disappointed that none have so far turned up in the Scotland team, but I am sure it might happen one day. I do still have one unmarried daughter, perhaps some mother or father here has a 21 year old son and might like to discuss a mutually beneficial arrangement?
In education, Tonga has a long history, I was delighted to hear that this is the 150th anniversary of Tupou College, a famous institution. We want to stay connected with young Tongans, and help where we can. I know the Queen's Young Leaders Programme has supported youth workers. I was pleased that last year we expanded the size of our Chevening Scholarship programme in the Pacific, making 17 scholarship awards for fully funded Masters places. This year we will shortly announce another 15 awards, including one to a young Tongan, and I would encourage ambitious more young Tongan women and men to apply for next year's programme, which we will advertise soon.
We continue to cooperate with military and police training, sending some of your best naval officer cadets to Britannia Naval College in Dartmouth, and offering senior leadership training for the police, and training on Economic Exclusion Zones, vital for an island nation like Tonga.
The UK is also a small island nation and we understand the challenges posed by a changing climate. We worked together to help achieve a good outcome at the Paris Conference in January. We will continue to support Tonga and the Pacific in fields like renewable energies, and projects to adapt and mitigate the effects of rising sea levels. Some of this is financed through our 15% contribution to EU programmes. But I would also highlight new funding streams – notably the Green Climate Fund – which are making available grants or concessional finance for climate change projects, working with agencies like SPREP and the ADB. The UK contributes 10% of the GCF, £1 billion, and we want it to make a real impact in Pacific island nations - before 2020. And British universities and researchers are working with partners like the USP, to address issues like sustainable sea transport, and develop new technologies to provide solutions that work for Pacific island nations.
The UK has always balanced traditional values and structures with the development of civil and political rights. We understand that new values can co-exist with old. Our own democracy never stands still – as you will have seen over the last two decades if you have followed changes like devolution for Scotland, Wales and Northern Ireland, the creation of a Supreme Court, and our two referendums – one of which is taking place later this month.
Tonga has of course gone through very important reforms in this last decade, changing the balance of your constitutional monarchy. None of this is easy, it poses ongoing challenges, and we salute your leadership as it navigates the way ahead for the nation.
To conclude with a few remarks about my Queen's 90th birthday. 90 is indeed a remarkable age and celebrations have been going on for some months. Yasmin and I were lucky enough to attend a special pageant at Windsor Castle in May, with over 600 horses, and displays and military music from across the world. It had three themes, all very important to Her Majesty: horses; the British Armed Forces; and the Commonwealth of which she is the Head.
Other events to mark the 90th birthday have included royal walkabouts in Windsor and other towns, President Obama dropping by for a Birthday Lunch in April, many commemorative documentaries and musical concerts in different places. But this is the official Birthday Weekend. There will be a Queen's Birthday Parade tomorrow in Horseguards Parade in London, and a Street Party with all the Queen's charities in the Mall on Sunday 12th June. So it is very fitting that we are holding our celebration tonight.
I know Her Majesty has a very special affection for Tonga and other Pacific nations, since she came here so early in her reign, only a few months after her own Coronation in 1953. Her visit to Tonga as the guest of the late Queen Salote was extraordinary. The two Queens met at the wharf in a downpour of rain, just as it had rained in London during our Coronation – and they laughed about the rain. The Queen and the Duke of Edinburgh enjoyed a traditional Tongan feast, many displays of dancing and singing, and a torchlight guard of 400 ringed the palace throughout the night. I believe the Queen even met Tui Malila, the oldest tortoise in the world, who lived to be 188. Very special indeed, and no wonder that our Queen returned in 1970, your independence year, and again in 1977, our Jubilee Year.
I shall be pleased to report to Her Majesty that we celebrated her birthday tonight in Tongatapu in style, with a Tongan feast and music [and some Tongan rain]. To mark the occasion I would like to present His Royal Highness the Crown Prince with a book, specially printed to commemorate her 90 years.
Your Royal Highness, please accept this token of our esteem, as a mark of the friendship between our peoples, and between our royal families.
Malo au pito.
I would now like to propose a toast. To His Majesty the King, and the government and people of Tonga.
Published 14 June 2016