Henry Winkler receives honorary OBE for services to children with special educational needs and dyslexia
Michael Gove presents award for Winkler's tireless campaigning to support the earlier identification of children with SEN or disabilities.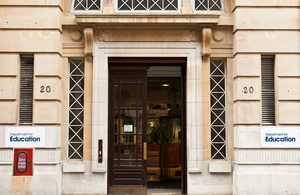 Welcoming the award, Michael Gove, Secretary of State for Education said:
I congratulate Henry Winkler on this much deserved award. As an accomplished actor, author and director he has not only shown people what it's like to live with a disability, but more importantly he has inspired young people with disabilities to make their dreams a reality.

Whilst many will remember Henry as 'The Fonz', in recent years he has devoted himself to improving opportunities for children and adults who have learning difficulties. He has been awarded the OBE for his tireless campaigning to support the earlier identification and better understanding of children who have a special educational need or disability (SEND). I give Henry my wholehearted thanks for the time he has spent in this country visiting schools, inspiring children and raising their aspirations.

The Government is looking at a radical shake-up of the SEND system to give children with SEND and their parents a much bigger say in the type of support they need, and to make sure they achieve their full potential. It's thanks to people like Henry that we can give children, parents and professionals a much greater understanding of how the system can work for them.
Further information
Henry Winkler was nominated for an honour by the editor of First News Nicky Cox MBE, the Dyslexia Trust and the Teaching Awards. The Department supported the nomination.
Henry was diagnosed with severe dyslexia in his thirties. He has co-authored 17 books based on a child with dyslexia, Hank Zipzer.
Last year he fronted the First News 'My Way' campaign to improve perceptions of children with special educational needs (SEN) and disabilities and raise their aspirations, and he worked with the Dyslexia Trust. This year, the National Teaching Awards presented a new SEN award with prize money donated by Henry.
DfE enquiries
Central newsdesk - for journalists 020 7783 8300
General enquiries - for members of the public 0370 000 2288
Published 11 February 2011