World news story
Helsinki Embassy hosts a Paralympic Seminar
Leading figures in Finnish sport came to listen about the success of London 2012 Paralympic Games.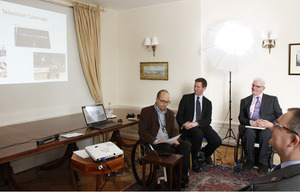 The British Embassy in Helsinki, in association with the Finnish Paralympic Association, have run a seminar to showcase the 2012 Paralympic Games Legacy to leading figures in Finnish sport. The event builds on the unprecedented public interest generated in Finland by the London 2012 Paralympic games, which are widely regarded as having stood on their own merit rather than being a "side show" to the Olympic Games themselves.
Speakers from the UK included Chris Holmes MBE, Director of Paralympic Integration with LOCOG, who opened the seminar by giving an overview on the joint planning and delivery of both Olympic and Paralympic Games. Kevan Baker OBE, the Chairman at Wheelpower and a former Paralympian, explained the history of the Paralympic Games and spoke about the recent development of the Games and changes in attitude towards disabled sport in wider society.
Rounding off the seminar, the Finnish Paralympic gold medallist, Toni Piispanen, spoke about his personal experiences of London 2012. He highlighted the positive media depiction of disabled sportspeople at London 2012. With references to the "superhuman" campaigns, portraying disabled sportsmen overcoming their disability to compete at the top level of elite sport, he said the campaing had created positive reactions amongst fellow athletes.
The seminar sparked a discussion about best practices in sports integration and led the audience to consider what lessons the Finnish sporting world could learn and apply in their own sports events. Watch the seminar in full
Published 18 April 2013