Helping tenants have a stronger voice
Housing Minister Grant Shapps wants to give housing professionals the powers they need to make the right decisions for their communities.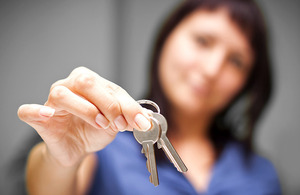 Whether that's providing more homes or helping tenants have a stronger voice.
In a speech at the Chartered Institute of Housing conference, Mr Shapps spoke about how he wants to see tenants and their representatives firmly in the driving seat - giving them the platform to get things done. One option he is looking at is Tenants' Panels. Tenants will be able to complain to their panel and the panel would have real powers to intervene to resolve problems. Along with elected councillors and MPs, tenants' panels could also act as a new gateway to the Ombudsman.
Large quango not the way forward
The minister has also made clear the huge premium he places on tenant empowerment, but he is far from convinced that a large national quango is the best way to do it. He confirmed the government review of the role and purpose of the Tenants Services Authority and the best framework for regulating social housing. This will consider the full range of options in line with the government's commitment to reduce the number of quangos.
Mr Shapps said:
I believe that we can cut out unnecessary inspection - decentralise power, reduce bureaucracy and save money. But I want to reassure you that government absolutely recognises the value of independent economic regulation of social housing.

This is why I intend to ensure that economic regulation continues to enable housing associations to secure significant private investment into affordable housing.
The minister also confirmed that in future the Homes and Communities Agency will be smaller and more strategic - with its functions delivered under local leadership. Mr Shapps added:
The Homes and Communities Agency will stay. But I think it needs to operate in a genuinely local way - at the invitation of local people who want to improve their communities.

So it will be smaller, more strategic - with the Homes and Communities Agency's functions being delivered under local leadership. It will be much leaner. To use the jargon I see it as an enabling and investment body. Or in plain English, the people who help to get things done.
Published 25 June 2010