News story
Help in hiring your first employee
New online toolkit provides first-time employers with a step-by-step guide on hiring staff.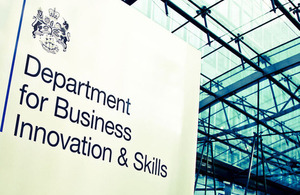 The Taking on a Employee toolkit on Business Link takes employers through the process of hiring their first member of staff. It also explains their core legal obligations, and guidance on:
Information on setting pay.
Getting the right insurance.
Understanding tax requirements.
Checking a new employee's right to work in the UK.
** _ ** Find out about more common myths when employing someone for the first time. ** _ **
The new tool is part of the Business in You campaign, to encourage more people to start or grow their business throughout 2012 using a range of existing support services.
Employment Relations Minister Norman Lamb welcomed the new guide:
"For many one-person businesses there is a belief that the process for taking on their first member of staff can be a daunting and overly complicated process. And with no one easily accessible source of guidance it can really feel burdensome.
The Taking on an Employee toolkit aims to tackle this problem and will help empower our sole-traders, our one person businesses, to take that next step.
"The Red Tape Challenge and the online toolkit we are launching today are just two of the many measures we are taking to tackle employment regulation and to make sure it doesn't act as a deterrent in hiring staff.
"If we can provide the advice and information in a simple format, showing first-time employers that taking on staff can be a simple process, this will ultimately help in our efforts in creating jobs and encouraging growth."
Feedback during the employment theme on the Red Tape Challenge highlighted that previous guidance and information was too complex and not readily available.
The new Taking on an Employee toolkit aims to tackle these problems, by clearly outlining what an employer must do, why they must do it and how they can comply.
Links
Published 25 April 2012