News story
Help improve policing – ten days to go
There are just ten days to have your say on the policing in the 21st century consultation. Read on for some of the ideas submitted so far.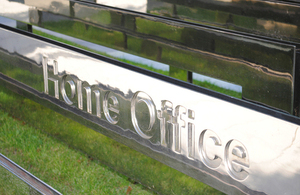 We've had more than 300 responses to the consultation 'Policing in the 21st century: reconnecting police and the people'.
The document sets out how the police service in England and Wales will become more accountable to the public and responsive to local people, more focused at a national level and more effective at tackling crime. It will also provide better value for money.
Here are some of the ideas you've given us:
Local policing
'Ask local people what information they want from their local police, is it crime information, road traffic collision data, complaints. Once this is identified it should be published on the internet. This will prevent, rightly, forces being compared against each other which ends up as a game … to be the best.'
Volunteer network
'Create a volunteer network to assist paid police community support officers - maybe doing some "back room" functions, arranging events, etc. There's a wealth of untapped knowledge in local areas, use it!'
One-stop shop
'Develop a seamless one-stop shop approach between agencies which is victim-centred and allows making direct connections between harm suffered and remedy. In other words, make it worthwhile for a victim to report crime in full confidence of achieving a timely and positive outcome.'
Neighbourhood Watch
'Greater recognition for Neighbourhood Watch volunteers, victim support, special constables etc through the honours system.
Police and Crime Commissioners
'The public should have the genuine ability to get in touch with the Police and Crime Commissioner should they wish to. Via letters, or set surgery hours. The Police and Crime Commissioner should be able to record and report all public interactions, in order to evidence his/her commitment.'
Have you been inspired? Maybe you disagree and want to have your say. Get involved by filling in our consultation online.

Published 8 September 2010