Press release
Help for separating parents at their fingertips as new web app launches. A third of children now live in separated families
For the first time, the 300,000 families undergoing separation every year in Britain will be able to get free online tailored advice.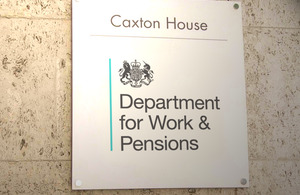 For the first time, the 300,000 families undergoing separation every year in Britain will be able to get free online advice tailored to their needs.
The Government is today (Thursday) launching an easy-to-use web app, called "Sorting out Separation", featuring an innovative and interactive tool, which offers parents personalised advice and shows where they can access further support.
Around five million parents have gone through separation and the new figures show over four million children now live in separated families - equal to a third of children in Britain.
However, a YouGov poll out today commissioned by the DWP reveals that more than half of parents (52%) find it hard to access help and support they need when they separate.
Work and Pensions Minister, Steve Webb, said:
Parents tell us they don't know where to turn for support when they're going through a separation. A third of British children now live in separated families and it's vital we help parents to access better advice. Parents working together is in the best interests of the children, and more collaboration helps minimise the impact of separation on them.

That's why we're launching a new web app, named Sorting out Separation and hosted by leading parenting websites, to give people support tailored to their needs.
Sorting out Separation is a one-stop-shop for any parent going through a separation. It covers everything from how to avoid a separation to coping with the emotional impact of breaking up, accessing legal or housing support and arranging child maintenance. The web app will be hosted by a range of leading family websites, starting with the likes of Relate, National Family Mediation, Mumsnet, Dad.info, Gransnet and Wikivorce.
Other findings from the new YouGov survey show:
39% of parents didn't access any professional support when they separated from their partners, of whom 25% said it was because they couldn't find the right help or support or felt embarrassed.
Of those parents who did seek professional help, 27% of them felt they received conflicting advice.
The Department for Work and Pensions worked closely with the Department for Education and Ministry of Justice in developing the new service, in conjunction with the voluntary and community sector. It forms part of a £20m fund announced earlier this year to help support separating parents.
Ruth Sutherland, CEO of Relate, commented:
We know more than anyone the profound difficulties that relationship breakdown can throw up for people. Finding the support to overcome these issues can be challenging, so the Government should be commended for introducing this new web app. We're pleased that it will help people identify the help they need and direct them to support - and we're proud to be hosting it.
Justine Roberts, CEO and Co-Founder of Mumsnet, said:
The beauty of this new service is that parents thinking of separating won't need to go to great lengths to seek it out. We're pleased the Government is using technology cleverly to bring resources to the people who need it.
Ken Sanderson, CEO of Families Need Fathers, also welcomed the app:
We're very happy to be involved in this initiative. We're confident it will help separating families more easily access the wealth of specialist support services out there to help them reach arrangements focused on what's best for their children.
Notes to editors:
If you would like to host the new "Sorting out separation" web app, then you can do so easily by clicking http://www.sortingoutseparation.org.uk/embed-app/
The Mail on Sunday's long-standing agony aunt (and former Relate counsellor) Zelda West-Meads is supporting the launch of the web app. She is available for interview on request.
An estimate for the number of separated parents and children living in a separated family in Britain is derived from the Labour Force Survey - a survey of households conducted quarterly. We have selected all households where there is either a lone parent or a couple where a step relationship between a parent and child is reported. Also derived from this is an estimate of the number of children within each household eligible for child maintenance.
YouGov research Online survey conducted between 7 - 12 October 2012 on a sample of 2505 UK adults (including 905 parents with at least one child under the age of 19, 510 parents who were separated/divorced from the other parent, or who had never been in a relationship with the other parent and 1205 people who have a friend/family member who is a separated parent). Findings relating to all respondents have been weighted to reflect the UK population. Findings relating to parents only, or separated parents only, are unweighted.
Published 29 November 2012