Help for children in care to achieve better school results
Virtual school heads will provide support for children in care to achieve better educational results, the Government has announced.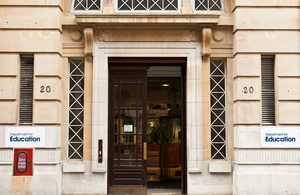 Children's minister Edward Timpson has today announced measures to help thousands of children in care in England achieve better grades at school and to help them turn their lives around.
The move comes as the Department for Education (DfE) publishes its annual statistics on school results achieved by those in care.
These show that the attainment gap has narrowed for the first time for some key stage 4 measures. Nonetheless, the results of children in care remain well below average - with just under 15% of them achieving 5 GCSEs, including English and maths. This is much lower than the 58% of children overall who pass 5 GCSEs, including English and maths.
To prevent this attainment gap from stagnating or widening further, the government intends to enshrine in law a 'virtual school head' for every council. Their primary focus will be to raise the educational attainment of children in care by getting them the support they need to succeed at school and in later life.
Virtual school heads will:
work with head teachers to find out what children in care need, such as extra tuition or emotional support, so that they can meet their highest possible level of educational achievement
act like a 'pushy parent' providing support and challenge to senior directors and lead members amongst others, to make sure children in care get quality learning and support
ensure children in care, as well as their foster or other carers, are actively involved in deciding about and delivering their education
That is why it is vitally important that every local authority has a virtual school head to champion their cause.
Those local authorities that already have strong virtual school head arrangements in place achieve above the national average for looked after children. This year, 40% of looked-after children in Warrington achieved 5 good GCSEs, 37.5% in North Tyneside and 22.2% in Dudley.
Edward Timpson, Children and Families Minister, said:
I know that a lot of councils go that extra mile to help educate children who are in care, and don't have the stable family home that is often taken for granted. However, a patchy service still exists and, as their poor educational outcomes show, this isn't good enough for children in care who deserve better.
Virtual school heads have been in place in many areas of the country where they have been making a positive difference. I want them to have the clout to push harder and help to improve educational attainment for all children in care because there is no doubt that their school years can be their link to a better future. That's why it is vital that every local authority has a virtual school head.
This is important work, and will play a significant role building the platform from which children in care can succeed and achieve their goals in decades to come.
The DfE has also announced other measures today to help those in care during their school years:
The role of the National College
In the academic year 2013 to 2014, the National College will make changes to the college's modular curriculum (aimed at governors) to help drive up the attainment of looked-after children. The improved programme will help improve the understanding of governors about how they can support the needs of looked-after children and the work of virtual school heads.
Pupil Premium Plus
The DfE is looking carefully at the recommendation in the report from the APPG calling for a looked after children 'Pupil Premium Plus' as part of the overall arrangements for pupil premium funding in the financial year 2014 to 2015. Children in care already attract pupil premium funding, which will be worth £900 per pupil in the academic year 2013 to 2014. The department wants to maximise the benefits of this extra funding so that everyone involved in the lives of children in care has a responsibility to help them reach their full potential.
Today the children and families minister has also written to foster carers about improving the educational achievements of children in care. In his letter, Mr Timpson thanks foster carers for the commitment and contribution they bring to caring for some of the most vulnerable children and details how the Government is making life easier for them by:
allowing them to make everyday decisions for children in care, without having to check with their council first
clarifying assessment and approval, so that foster services can share information easily
making it easier to change the terms of approval
launching the Fostering Information Exchange to share experiences and learn new ideas.
Note to editors
Virtual school heads have already been successfully piloted.
DfE enquiries
Central newsdesk - for journalists 020 7783 8300
General enquiries - for members of the public 0370 000 2288
Published 12 December 2012