Helmand PRT refurbishes Afghan Police checkpoint
Check Point Kartelegan is a key base for the Afghan National Police in Helmand's provincial capital of Lashkar Gah. It has been extended and…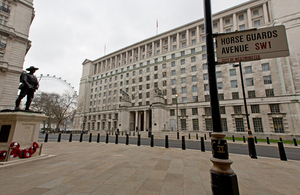 Check Point Kartelegan is a key base for the Afghan National Police in Helmand's provincial capital of Lashkar Gah. It has been extended and improved to better serve the increasing numbers of Afghan National Police.
The work has been undertaken as part of a larger programme of reconditioning and building of police checkpoints and headquarters in key areas across the province.
The checkpoint at Kartelegan has benefited from new watchtowers and improved facilities, while its general structure has been strengthened and extended.
Lieutenant Colonel Adam Griffiths, Commanding Officer of 5th Battalion The Royal Regiment of Scotland (5 SCOTS), and the officer charged with police development and training in the UK area of Helmand province, said:
A well-equipped and professional-looking force will invariably improve local perception of the Afghan National Police [ANP] and will increase the police's ability to recruit a higher grade of individual.
As the mission in Helmand increasingly looks forward to transitioning some of the more secure areas to full Afghan responsibility, the role of ISAF troops will become more one of mentoring and continuing to provide reconstruction and development as opposed to providing combat power.
Lt Col Griffiths continued:
It's about professionalism and reputation; these together will assist in the institutional development of the ANP by giving them the tools and the infrastructure to work with and making them proud of their own organisation.
Major Haji Guran, who commands the 2nd Police Precinct in Lashkar Gah and the 61 men who work in the vicinity of Kartelegan, said of the improvements:
I am grateful for the assistance of ISAF in my precinct and for the increasing standard of our checkpoints.
This was echoed by one of Major Guran's ANP patrolmen, Mohammed Al-Zad, who said:
Improved watchtowers and facilities make our job easier and makes the ANP a more popular career in Lashkar Gah.
On the way ahead for operations in Helmand Lt Col Griffiths said:
The future is about winning the support of Helmand's population through the institutional development of the security and justice capabilities of province and district government.
Published 20 October 2010