Helmand police lead operation to detain insurgents
Operation ZMARAY SARAK 5, a joint effort by the Afghan National Police, Afghan Border Police and troops from the National Directorate of Security…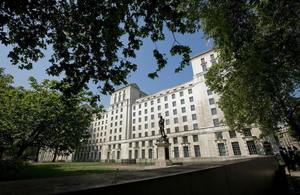 Operation ZMARAY SARAK 5, a joint effort by the Afghan National Police, Afghan Border Police and troops from the National Directorate of Security, has begun clearing a large area to the east of provincial capital Lashkar Gah of Taliban aggression, with a key local member detained and their symbolic white flag confiscated.
The assault - completed in just a few hours - also saw the capture of three drug runners, 250 kilogrammes of heroin and a stash of weaponry, as well as important engagement and relationship-building with local residents.
Operation ZMARAY SARAK 5 - 'Lion Road 5' in English - was conceived, planned and executed by the Afghan National Police (ANP) under the leadership of Colonel Kamaluddin Sherzai, the district chief of police for Lashkar Gah.
Support was provided by The Royal Highland Fusiliers, 2nd Battalion The Royal Regiment of Scotland (2 SCOTS), led by Commanding Officer Lieutenant Colonel Dougie Graham. The two commanders worked together closely throughout.
The operation was launched at dawn on Saturday. Attempts were made by insurgents to target the operation with numerous improvised explosive devices and an ambush, but the vigilance of the officers - combined with support from local people who warned the police where the IEDs were hidden - meant that they all failed.
Colonel Sherzai said:
This operation was a first for this area, with unprecedented co-operation between us in the ANP, the Afghan Border Police, the National Directorate of Security and the Afghan National Army. The support we received from ISAF, in the shape of the Royal Highland Fusiliers, was valuable but limited.

Our men have benefited from the most excellent training from the truly honourable and professional soldiers of the British Army but now we are rapidly getting to the stage where we can stand on our own feet and take over the security responsibilities that are rightly ours.
Colonel Graham added:
This operation provides a glimpse of the future: Afghan conceived, planned and led with cross-government support from the Afghans and minimal support from ISAF troops. An area that was previously under the control of the Taliban is now firmly in the sights of the local government.

There is more to do, and more operations of this type will be necessary to ensure that the population is protected from the insurgency. There is also much scope for infrastructure development. But the level of assistance that the locals gave the Afghan security forces and us, helping us to locate the insurgents and their IEDs, gives us all significant hope.
Published 12 November 2010