Helmand Governor opens new bridge built by UK engineers
Governor Mangal also hosted a shura (meeting) with more than fifty key leaders from the Loy Mandeh Kalay area - which only a few months ago …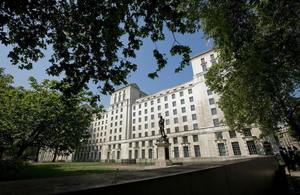 Governor Mangal also hosted a shura (meeting) with more than fifty key leaders from the Loy Mandeh Kalay area - which only a few months ago was an insurgent stronghold.
Operation OMID HAFT, which began at the end of May 2011, was a joint operation involving more than 500 British and Afghan troops clearing what was described as the last 'ulcer' in the Task Force Helmand area of operations, expanding the protected community of the central Helmand River Valley.
As part of the operation, engineers from Task Force Helmand, supported by soldiers from the Afghan National Army (ANA), removed tunnels that were used by insurgents to cross the Nahr-e Bughra (NEB) canal. The engineers then built a bridge over the water to ensure locals could still cross from one side to the other.
Opening the bridge, Governor Mangal thanked the ANA and ISAF troops for their relentless hard work and acknowledged the sacrifices that have been made in the area over recent months.
Governor Mangal was joined at the bridge by the District Governors of Nad 'Ali and Nahr-e Saraj, the Provincial Chief of Police, General Hakim Angar, the Provincial Reconstruction Team Head of Mission, Michael O'Neill, the Commander of Task Force Helmand, Brigadier Ed Davis, and the Commanding Officers of 42 Commando Royal Marines and 1st Battalion The Rifles.
After the bridge-opening ceremony, Governor Mangal was driven down Route Neptune, a road which runs parallel to the NEB canal from the bridge to the outskirts of Loy Mandeh Kalay.
At the start of Operation HERRICK 14, the village was heavily seeded with improvised explosive devices and had seen fierce fighting with insurgents. Now security has improved to such an extent that Governor Mangal walked through the village to the site of the shura where more than fifty Afghan elders had gathered to meet with him.
He acknowledged that ISAF, working with the Government of the Islamic Republic of Afghanistan, had provided roads, schools, clinics and security for locals and had encouraged the local people of Loy Mandeh Kalay to stand up to the insurgents.
Haji Musajan is one of the elders who attended the shura. He said:
It is very good that the Provincial Governor came here to talk to his people and encourage us. He spoke to us about all the things he wants to achieve in this area, and I look forward to the day this is accomplished.
Lieutenant Colonel Ewen Murchison, Commanding Officer of 42 Commando Royal Marines, who were heavily involved in OMID HAFT, said:
The symbolic act of the Provincial Governor being here to speak personally to his people is hugely significant, and represents a real blow to the insurgents.

From this visit, local elders can draw real resolve and confidence to distance themselves from the insurgency. It has further demonstrated to the population that the legitimate Government of Afghanistan can connect with its people, and genuinely provides a better option than the Taliban could ever hope to offer.
Published 16 August 2011