Helicopter masterclass for airborne medics
Airborne medics have trained with an RAF Chinook helicopter to refresh the specialist air skills that make them unique.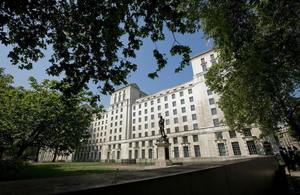 Exercise Eagles Serpent has seen 16 Medical Regiment (16 Med Regt) troops learning the techniques of working with helicopters, from the basics of the dangers of debris blown up by rotor downwash to the complexities of rigging vehicles and equipment to be carried as underslung loads.
The Colchester-based unit provides medical care and support to 16 Air Assault Brigade, which specialises in using parachutes and helicopters to arrive and move around the battlefield.
The training culminated last week with the medics getting under the turning rotors of a Chinook to try out the drills they had learnt in the classroom. The session also gave valuable experience of working with troops on the ground to the pilots and loadmasters from the RAF's 18 Squadron.
Warrant Officer Class 1 Justin Harris, Regimental Sergeant Major of 16 Med Regt, said:
This exercise is a great opportunity to polish up the regiment's skills of working with helicopters as we get back to our core role of being ready to deploy on contingency operations.
For soldiers who are new to the unit it will be the first time they have worked this closely with helicopters and is an excellent introduction to the specialist skills that make us unique.

Using helicopters to move casualties or medical equipment quickly could save someone's life, but the first thing to get right is being able to do it safely. To actually get under a Chinook is the exciting bit at the end of a week of solid learning in the classroom and hangars.
Among the soldiers taking part were Privates Simon Cartwright and Stevie Peters, who have recently completed training and joined the unit as combat medical technicians. Pte Cartwright, aged 20, said:
We've gone through the theory and practised rigging vehicles in our workshops, but there's only a certain amount you can learn in the classroom. It's great to actually get under a helicopter, hook something on and watch it get lifted.
Pte Peters, 20, said:
Working with helicopters is all very new to me and the skills we're learning are very important. There are a lot of safety precautions to think about - the downwash from rotors, heat thrown out from the exhausts and static electricity - and it really keeps you on your toes.
16 Med Regt provides medical support to the Air Assault Task Force (AATF), which sees 16 Air Assault Brigade maintain a force ready to deploy anywhere in the world at short notice to do anything from disaster relief to war fighting.
The regiment's high-tech and lightweight facilities can be deployed by parachute to provide consultant-led life-, limb- and eyesight-saving resuscitation and surgery as well as primary healthcare. Specialist personnel in the unit include consultant orthopaedic surgeons, biomedical scientists and combat medical technicians.
Published 29 October 2012