Helicopter Force joins 3 Cdo Brigade to prepare for Afghan deployment
Salisbury Plain will be buzzing with activity for the next few weeks as Joint Helicopter Command plays its part supporting 3 Commando (Cdo) Brigade's preparations for Afghanistan ahead of their deployment on Operation HERRICK 14 in April 2011.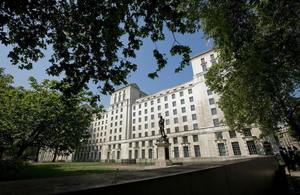 Using terrain around Netheravon Camp, Exercise Pashtun Jaguar has been mutually beneficial as Joint Helicopter Command (JHC) has been doing its bit to support 3 Cdo's pre-deployment training while also preparing themselves for deployment.
The exercise, which started on 24 January 2011 and which is due to run until 13 February 2011, uses scenarios which are based on more than four years of operational experience gained by Joint Helicopter Force (Afghanistan) [JHF(A)].
Colonel Neil Sexton, the Assistant Director of Operations for the exercise, said:
It is all about training our people in the JHC for Afghanistan.

The exercise has a number of objectives with two central aims, firstly to support the 3 Commando exercise which is going on all over Salisbury Plain, but also to validate our own crews, both individual augmentees in headquarters and the ground crews, in the roles they will play in Afghanistan.
This meant troops engaging in joint planning using Sea King, Apache, Lynx, Merlin and Chinook helicopters, all working together in an integrated way as a Joint Helicopter Force.
There was even a role for the MG Midget of the helicopter world, the Gazelle.
A crucial asset that battle groups call on when in Helmand is ISTAR (Intelligence, Surveillance, Target Acquisition and Reconnaissance), and an important part of that is the use of UAV (unmanned aerial vehicle) surveillance. However, as UAVs are not licenced to fly in UK airspace, that role is taken by the nimble Gazelle:
Flying it on gusty days like this," said the pilot, "it is a bit like balancing a broom on the palm of your hand; it's easy to do as long as you concentrate and don't get distracted.
The exercises contain a huge element of what has come to be known as 'Judgemental Training', which means when an aircrew finds itself in a situation, be it offensive or defensive, the crew must decide whether it is safe, correct and prudent to engage with the enemy.
Essentially it is about making sure the crews understand what they can and can't do under the rules of engagement.
To test them, a small group of determined men stay out all hours of the night in the field, in the biting cold, dressed in Afghan kit and clothing using insurgent weaponry and vehicles.
They set ambushes, lay IEDS and mingle in shuras. When the aircraft are deployed the crews are tested on how they respond to these threats. Do they engage? Are they allowed to? Are there civilians nearby? After the sortie is over the crews look at the gunship tapes and are debriefed about whether the correct courses of action were taken.
Two of the team playing the parts of Taliban are Lance Corporal Ryan Oates and Lance Corporal 'Kenny' Everett, both of 4 Regiment Army Air Corps. Both have deployed before, and value this type of training.
Lance Corporal Oates said:
We've run this a few times now. In the morning we get a brief and sort our kit out - we keep getting better and better with more sophisticated equipment and scenarios.

If the scenario is IED-laying we'll get near a village, and where the locals have their water bowsers, maybe a kilometre down the track, we will dig in the IEDs. Then we will get a vehicle as a disguise, get the lid up as if we've broken down trying to fix it.
"When the attack helicopter is overhead we stop our suspicious activity and try melting away. Then we come back, we try provoking them, seeing if we can trick them into making the wrong call."
It can be a frustrating task as carefully-planned insurgent activity is often quickly dealt with by the Apache aircrews. On one such occasion, having carefully set up an ambush near a patrol base with a machine gun on the back of a pick-up truck, with the intention of using simulated tracer rounds to push an incoming Sea King helicopter, escorted by an Apache into a danger area, the lads had to watch as the aircraft veered away because they had been spotted:
We then heard in our earpieces 'right, lie down, the Apache has spotted you - you are now dead'. It shows how good the training is," said Lance Corporal Everett.

We do mix it up a bit, we can ad lib. I think it's fair to say that the aircrews are never going to be able to second guess what we are going to do," said Lance Corporal Oates.
We might be laying an IED and once we've finished that if the aircraft is overhead we'll jump in the pick-up and go up to the village, then the Apache has to make that judgement, can they engage the hostiles without collateral damage?
As well as training the JHF(A), which has its base at Camp Bastion, Exercise Pashtun Jaguar also trains the Joint Aviation Group, which is immersed in the US Marine Corps HQ that sits at Camp Leatherneck, adjacent to Bastion:
Because while we are in RC(SW) [Regional Command (South West)] Afghanistan, we work absolutely integrated with our allies in the US Marine Corps. So this exercise is all about that, correctly preparing our people so they are ready for Afghanistan," said Colonel Sexton.
During the exercise JHC provides the battle group with ground cover when called in to support troops under attack, transports soldiers around the area of operations, performs casualty evacuation and resupplies the four patrol bases that make up the exercise.
Freight is often delivered as underslung loads to cut down on the time taken to unload. Of course the weather and altitude conditions of Helmand cannot be recreated on Salisbury Plain, but the effects that they have on the performance of the aircraft can be taken into account; so, for example, the weight of freight or personnel that the helicopters carry is reduced accordingly.
Over the course of the exercise, the aircraft will have flown for more than 1,000 hours. The crews will have fuelled themselves with 800 slices of bacon and 2,500 eggs every day, and to accommodate the effect of that, 40 portaloos have been brought in.
Published 31 January 2011