Helicopter crews prepare for Afghanistan
To prepare the personnel as well as possible for their upcoming deployment to Afghanistan, Exercise Pashtun Jaguar is physically laid out to…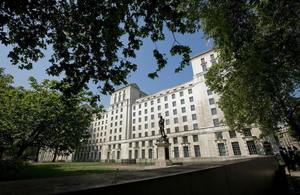 To prepare the personnel as well as possible for their upcoming deployment to Afghanistan, Exercise Pashtun Jaguar is physically laid out to exactly replicate the facilities they will have at Camp Bastion, so that they will hit the ground running when they arrive.
Members of all three Services are involved in the training which is supporting 20 Armoured Brigade's Exercise Pashtun Dawn which is running simultaneously.
To ensure a good working relationship between ground control and those in the air, many different scenarios have been developed so that, when it comes to the real deal, all involved will have worked closely together and be able to clearly cope with the situation.
Colonel Neil Sexton, Assistant Director Operations JHC, said:
One reason for this exercise is to make sure that the Joint Helicopter Force (Afghanistan), and its different detachments of helicopters, are prepared to go out over the next six months.
We're preparing the headquarters staff in the Joint Operations Centre and then we're training the flying detachments of all the different helicopter types to work in different scenarios to make sure that they have all the right tactics, techniques and procedures, and to allow the ground troops to plan and prepare with them to use the helicopters properly.
Cross-pollination of information from all those involved is key to getting the most out of Exercise Pashtun Jaguar, as Colonel Sexton explained:
We have done some really good training alongside the battle groups who are bringing all their company commanders in to do briefings for helicopter detachments, to make sure that we get this intellectual understanding between the blokes on the ground and the crews who are going to be operating the aircraft.
It's actually quite easy flying an aircraft on Salisbury Plain. What you've got to do is link it in properly with the training that the chaps on the ground are doing to make sure they're receiving the support they need.
Whether that's simulated Apache fires, casualty evacuation using the Chinooks, air assault or trooping drills using any of the lift platforms, or, with the Lynx, some kind of surveillance capability.
Lieutenant Colonel James Anderson heads up the Joint Operations Centre on Exercise Pashtun Jaguar. He explained the rationale behind creating an exact layout of Camp Bastion:
The key point is that the training has to be extremely robust to replicate what we will find in Afghanistan," he said, "because as soon as we get there we've got to hit the ground running and you've got to be very much aware of what the current mood is in theatre and how things have changed.
Those people who have been out there 12 months ago will notice a significant change to what's actually happening now. Everyone's really looking forward to it.
As well as regular Service personnel, many reservists attended the exercise, including TA soldier Captain Katie McLeman, Flight Commander for 655 Squadron, who normally works as a Business Analyst Portfolio Manager. She explained how the layout of the camp provides an extra touch of realism to the training:
Because the way it's been set out replicates exactly what's in Bastion, it gives everybody the ability to really practise what they're supposed to be doing, so when they turn up in theatre they know what to expect. They've replicated it even down to where we're currently living, where we eat, the whole lot is set out the same.
RAF Auxiliary Flying Officer Adam Thornhill's civilian job is as a forecaster with the Met Office based at RAF Brize Norton.
With his transferable skills, he is relishing the opportunity to work with the JHC:
My usual day job is working with the transport fleet so coming down and working with the JHC is totally different," he said. "The helicopters are interested in low-level conditions and they have different limitations on the aircraft, obviously they're trying to do something much more localised than what we do at Brize Norton.
It's very useful to get face time with the Colonel who I'm going to be serving in Afghanistan with, certainly the aircrews; if they know you personally and have experienced your forecasting before, they have a lot more faith in what you're forecasting and that's important when it comes to operations out in theatre.
The joint exercise runs from 24 July until 22 August 2011.
Published 12 August 2011