Press release
Helen Stephenson and Paul Maltby to lead Government Innovation Group
The Cabinet Office today announced the appointment of Helen Stephenson and Paul Maltby as joint directors of the Government Innovation Group.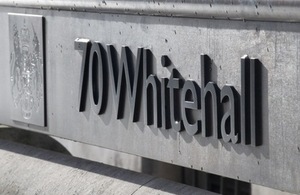 They will replace Gareth Davies who is leaving to take on a private sector role in Asia.
The Government Innovation Group is a section of the Cabinet Office dedicated to supporting social innovation both in and outside government by mobilising people, resources, programmes and data.
Within the Government Innovation Group, Helen will lead the Office for Civil Society. This works to support civil society by making it easier to set up and run a charity or voluntary organisation, encouraging more resources into the sector and making it easier to work with the state.
Helen was formerly Director of Programmes in the Office for Civil Society, where she was responsible for the leadership and oversight for all programmes, performance and finance. Prior to this she led the team setting up Big Society Capital and was responsible for running several of the Office for Civil Society investment programmes.
Before joining the Civil Service, Helen was Head of Strategic Policy and Partnerships at the Big Lottery Fund. She has also worked for a large national charity as a development manager, and as a researcher and consultant in the voluntary sector. Helen has a PhD from Bristol University.
As Director of Open Data and Government Innovation, Paul will lead teams in the Government Innovation Group responsible for Open Data, Open Policy Making, and Analysis and Insight. He will also oversee the Cabinet Office interest in the spin out of the Behavioural Insights team - known as the 'Nudge Unit' - as it moves towards joining with a commercial partner and becomes the first policy unit to be spun out of Whitehall as a mutual.
Paul was formally Director of Open Data and Transparency in the Cabinet Office, which works to release government data that can be freely accessed by citizens and businesses to help drive the next generation of data-led economic growth, strengthen government accountability and improve public services.
Prior to this Paul was seconded to Leicestershire County Council where he worked on schools reform and a programme for commissioning services across different local public bodies. He has been Director of Strategy in the Home Office and began his time in government in the Prime Minister's Strategy Unit.
Published 11 June 2013