Helen Newlove unveiled as the Victim's Commissioner
Baroness Helen Newlove has been appointed as the new Victims' Commissioner, Victims' Minister Helen Grant announced. Baroness Newlove…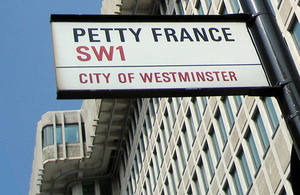 Baroness Helen Newlove has been appointed as the new Victims' Commissioner, Victims' Minister Helen Grant announced today. 
Baroness Newlove has campaigned tirelessly for victims since the tragic death of her husband Garry in 2007 and, in her role as the Government's Champion for Active Safer Communities, she has worked with local people to make communities safer and to find solutions for local problems.
Her appointment will ensure victims' and witnesses' voices are brought to the heart of Government, making sure their needs are championed and that the Government is delivering on its commitments.
Victims' Minister Helen Grant said:
'I am greatly looking forward to working with Helen to make sure we better support victims traumatised by crime. We have already undertaken an ambitious package of reform to the way support services are provided so they will be more responsive to individual communities' needs.
'We are also making criminals pay much more towards victims' services and take more responsibility for their crimes. I know that victims and witnesses need more help navigating what can be a confusing and sometimes intimidating criminal justice system. That's why I am revising the Victims' Code to better respond to their needs and Helen will play an invaluable part in this.'
Baroness Helen Newlove added:
'I am extremely honoured to be appointed as the Victims' Commissioner and I promise that I will continue to ensure the victims voice is heard at the heart of the Criminal Justice System and Government.
'I know as a victim of crime how it feels to be alone, having to reach out for support at the most traumatic of times and facing a Criminal Justice System both daunting and difficult to understand. Sadly, I am not alone in feeling like this, and have been contacted by victims of crime throughout the country who feel the same.
'As Victims' Commissioner I will support changes in the Criminal Justice System that meet the needs of the victim and their families. Where it does not I will challenge with equal determination. From experience I know in my heart the pain that is felt by victims of crime and their loved ones and this alone will drive me to be the best Victims' Commissioner I can be.'
Baroness Newlove's appointment will last for three years and her role will include:
Engaging with victims and witnesses groups, local and national leaders and criminal justice agencies to build up a picture of the current experience for victims and witnesses in the criminal justice system (CJS);
Advising the Government on views from victims and witnesses on existing good practice in the CJS and areas for future work;
Contributing to the Government's revision of the Victims Code to ensure that the new version provides much greater clarity to victims on their entitlements from criminal justice agencies.
Baroness Newlove's work will build on the invaluable contribution from previous Victims' Commissioner Louise Casey and Victims' Champion Sara Payne.
Notes to editors:
The Victims and Witnesses Commissioner is an independent role appointed through an open recruitment exercise.
The Government set out its package of major reform to make criminals pay more towards victims services, ensure support is provided in response to local communities' needs and stop criminals with unspent convictions claiming victims compensation money in July 2012.
As part of this, from 1 October the Victim Surcharge was increased and extended to force more criminals to pay towards supporting victims of crime. The money raised supports local organisations that support victims at their most vulnerable. Adults convicted of an offence committed on or after 1 October 2012 will have to pay the Surcharge at the new rate - 10% of any fine (max £120, min £20), conditional discharge (£15), community (£60) or custodial sentence (£80, £100 or £120 depending on length of sentence).
This will see offenders provide up to £50 million more each year for victims services or organisations. This is on top of the £66 million already provided by central Government to victims' services each year.
For further information or to put a request in to interview the Victims' Minister please contact the Ministry of Justice Press Office on 020 3334 3536
Biography of the Victims' Commissioner:
Baroness Helen Newlove is a community reform campaigner and activist. She came to prominence after her husband Garry Newlove was murdered outside the family home by a gang of youths, all alcohol and drug fuelled, in 2007. After his death she campaigned to tackle anti-social behaviour and the underage and binge drinking culture.
Helen was given a peerage in the 2010 Dissolution Honours list and sits in the House of Lords as Baroness Newlove of Warrington in the County of Cheshire.
In October 2010 she was appointed government Champion for Active, Safer Communities and spent six months at the Home Office before moving to the Department for Communities and Local Government to continue her work in April 2011. Her most recent report, Building Safe, Active Communities: Strong foundations by local people, was published in February.
Helen is married and lives in the North-West.
Published 20 December 2012