Press release
Hefty fines for drivers who refused fixed penalties
Truck drivers hit with hefty fines after attempting to sidestep VOSA enforcement action.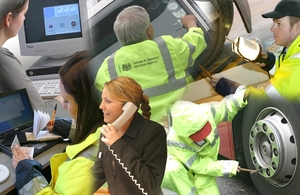 Two truck drivers have been hit with hefty fines in court after choosing not to accept on-the-spot fixed penalties for overloading.
VOSA officers issued the drivers with £200 fixed penalties at Portsmouth Docks on 16 August last year (2009).
But both men questioned VOSA's power to enforce the regulations, arguing that the docks were private land and they had no authority there.
Keith Jelfs, 52, of Bracknell, who worked for Dutch operator DWC International BV appeared at Portsmouth Magistrates Court on 10 June 2010.
Magistrates found him guilty of the overloading offence and fined him £500, plus £1,094 in court costs and a £15 victim surcharge.
Peter Orr, 61, a sole-trader from Plymouth, was also found guilty of an overloading offence.
He appeared at Salisbury Magistrates on 21 June 2010 and received a £500 fine, plus £2,000 costs and a £15 victim surcharge.
In both cases, magistrates were unimpressed with the driver's argument.
They determined that the location was considered to be a 'road' for the purposes of the Road Traffic Act 1988 to which the public had access and that VOSA had every right to be undertaking enforcement action at that location.
Notes to editors
VOSA is responsible for:
processing applications for licences to operate lorries and buses and registering bus services
operating and administering testing schemes for all vehicles, including the supervision of the MOT testing scheme
enforcing the law on vehicles to ensure that they comply with legal standards and regulations
enforcing drivers' hours and licensing requirements
supporting Traffic Commissioners to help them make informed decisions on operator licensing, vocational drivers and bus registration requirements
providing training and advice for commercial operators
investigating vehicle accidents, defects and recalls
VOSA media enquiries
You should contact our press office if you have a media query or you're a journalist.
Published 23 June 2010