Hefty fine for Nottingham coach company
Bellamy Coaches fined nearly £100,000 after being found guilty of drivers' hours offences.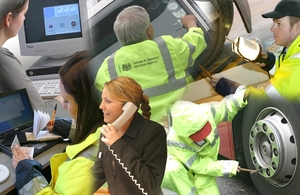 A Bilborough bus company was fined £97,000 this week for allowing its drivers behind the wheel without taking enough rest and failing to keep records of work.
VOSA investigated Bellamy Coaches for a 6 week period during September and October 2009. VOSA officers discovered the company had failed to ensure that their drivers took adequate rest whilst carrying local school children and students from Nottingham and Trent Universities.
Officers also found that Edward John Martin Bellamy, as both Director and Transport Manager, had failed to keep adequate records and systems to properly monitor his drivers' working hours.
Bellamy pleaded guilty to 77 offences relating to breaches of drivers' hours rules and failing to keep records of work at Nottingham Magistrates Court on 13 October. Magistrates fined Bellamy £17,000 and ordered him to pay £80,000 in costs.
The court heard that some drivers had taken less than 4 hours rest between finishing driving for the day and starting work for the following shift.
Drivers had also worked up to 27 consecutive days without taking the legally required breaks.
Nine of the company's drivers previously pleaded guilty to a variety of drivers' hours offences including failing to take adequate breaks and received fines.
VOSA Operations Director Alex Fiddes said:
I am very pleased with the level of fines the court has handed out - it shows how serious these offences are. Bus and coach operators must keep records of the hours that their drivers are completing.

Drivers who do not take the required amount of rest run the risk of causing a serious or fatal accident because of tiredness.
Notes to editors
VOSA is responsible for:
processing applications for licences to operate lorries and buses and registering bus services
operating and administering testing schemes for all vehicles, including the supervision of the MOT testing scheme
enforcing the law on vehicles to ensure that they comply with legal standards and regulations
enforcing drivers' hours and licensing requirements
supporting Traffic Commissioners to help them make informed decisions on operator licensing, vocational drivers and bus registration requirements
providing training and advice for commercial operators
investigating vehicle accidents, defects and recalls
VOSA media enquiries
You should contact our press office if you have a media query or you're a journalist.
Published 15 October 2010