News story
Heed the words of Cardinal Brady - Paterson
Owen Paterson commented on Cardinal Brady's message of peace, delivered at the funeral of PSNI Constable Ronan Kerr.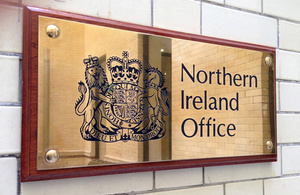 Secretary of State Owen Paterson has said that Cardinal Brady has sent a clear and powerful message to anyone even thinking that violence could possibly be justified in Northern Ireland today.
Speaking after attending the funeral of PSNI Constable Ronan Kerr, Mr Paterson said:
Today was a deeply sad and moving occasion, but it was also uplifting.
So many people from across Northern Ireland and beyond came together not just to show support for Ronan's family but as a physical manifestation of the heart felt desire for a complete and final end to violence.
Cardinal Brady's words were immensely powerful when he said: "Unfortunately there are some people who do not believe that Ronan should have joined the PSNI.
"They have a right to hold that view, but the freedom to hold that view also brings with it a great responsibility. It brings the duty to respect the will of the overwhelming majority of the people. And the people have said no, never again, to the evil and futility of violence.
"They have said an empathetic no to the murder and mayhem of the past. Let there be no doubt that the killing of Ronan Kerr, was totally unjustified. It was an evil deed, an offence against God and a complete rejection of the belief that human life is sacred.
"Of course there is now a whole generation of young people who have no memory of the troubles and the sufferings of the past. We should resist the temptation to glamorise the dreadful pain and sorrow of that past.
"Parents and grandparents, I beg you, plead with your children and with your grandchildren, not to get involved with violence. Never let them be deceived by those who say that Ireland will be united or the Union made more secure by war. They are wrong. It is an illusion. Violence has nothing, absolutely nothing, to offer except misery and destruction. Choose life, I say, choose goodness, choose peace. That is what God is asking of you. That is what the people of all traditions have been saying to all of us, loud and clear, since the moment of Ronan's tragic death on Saturday last. We do not want this. You do not act in our name. In God's name stop - and stop now!
Published 6 April 2011