Heart of Stoke-on-Trent set for dramatic transformation
West Midlands European Regional Development Fund Programme Plans to transform the city of Stoke-on-Trent into a thriving and successful centre…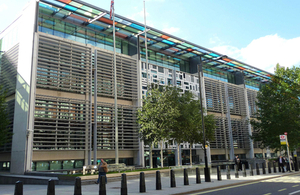 West Midlands European Regional Development Fund Programme
Plans to transform the city of Stoke-on-Trent into a thriving and successful centre are well underway thanks to a fresh injection of funding and an ambitious vision for the future.
Improvements will help enhance the image and appeal of the city to businesses, attracting fresh inward investment and job opportunities, and also help join up other developments taking place around the city from the Central Business District through to the Mitchell Memorial Theatre.
The public realm improvements, supported by £2.1million from the European Regional Development Fund, which is managed by the Department for Communities and Local Government and matched by Stoke-on-Trent City Council, are part of a package of improvements to develop and upgrade the city centre - creating a legacy for local people and making it more attractive to potential new investors.
Communities Minister Baroness Hanham CBE said:
To improve the overall perception and performance of an area you have to get the foundations right. Stoke-on-Trent city centre is in great need of regeneration to ensure its future is prosperous. This has already started with key developments taking place in city and I am delighted that we are able to offer funding support to activities which complement these developments. From new street furniture to landscaped areas the changes planned will help create an attractive, vibrant and welcoming environment.

As well as creating something special for local people, I also hope this investment will send a clear signal to private sector investors, helping to continue the much needed and on-going regeneration of the city centre.
Residents, workers and visitors alike will be able to enjoy newly landscaped public spaces and street furniture, creating an attractive environment. The improvements will focus on the areas of Tontine Street, Percy Street and Stafford Street.
Councillor Ruth Rosenau, Stoke-on-Trent City Council cabinet member for regeneration, planning and transport, said:
We're delighted to mark the start of these long-awaited works. It's a very exciting project. It will give the area a contemporary city style and feel, but retain its very special character and heritage.

The area will become much more attractive and provide a more welcoming shopping environment, with natural stone paving and granite benches with ceramic detailing, plus new lighting, signs and trees.

It's around 25 years since work on this scale and quality was last done in the area so it's literally getting its biggest makeover in a generation.
To find out more about activities set for Stoke-on-Trent, contact Ciara Hill in Stoke-on-Trent City Council Press Office on 01782 232130 or e-mail ciara.hill@stoke.gov.uk.
Notes to editors
The Department for Communities and Local Government is the managing authority for the European Regional Development Fund (ERDF) Programme which runs from 2007 to 2013. This is one of the funds established by the European Commission to help local areas stimulate their economic development.
The West Midlands European Regional Development Fund Programme has been allocated 400million euros to invest in projects which will support local businesses and create jobs.
In the West Midlands the priority areas and themes are:
**Innovation and Research and Development **Increasing investment in research and development through helping businesses take forward new innovation, sharing of knowledge and developing and demonstrating new technology
**Enterprise Development **Increasing business performance through supporting high growth businesses, improving resource efficiency, providing access to finance and developing a strong entrepreneurial culture
**Sustainable Urban Development **Improving the performance of key urban areas through regenerating local areas, encouraging investment and new businesses, creating job opportunities and helping communities most in need
**Inter-Regional Activity **Working with European partners to learn and improve, share and apply best practice and solve problems
More information
For more information follow us on Twitter at www.twitter.com/erdfwmnews (external link).
Contact Lynsey Cooke, Communications Manager on 0303 444 6587 or email lynsey.cooke@communities.gsi.gov.uk.
Published 16 October 2012