Press release
Healthcare worker transported to UK for Ebola monitoring
Action taken to support the individual and protect the public's health.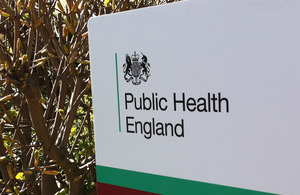 Public Health England (PHE) can confirm that a UK military healthcare worker has been transported back to England today (31 January 2015), following a needle-stick injury when treating a person with Ebola in Sierra Leone.
The individual has been admitted to the Royal Free Hospital in London for assessment. They are likely to have been exposed to the Ebola virus but, at this time, have not been diagnosed with Ebola and do not have symptoms. The individual's next of kin has been informed.
Professor Paul Cosford, PHE's director for health protection and medical director, said:
Our thoughts are with this person, who has been courageous in helping those affected in West Africa, and in preventing the wider spread of Ebola.

We have strict, well-tested protocols in place for this eventuality and we are confident that all appropriate actions have been taken to support the healthcare worker concerned and to protect the health of other people.
Further information
The individual was exposed to the virus in a frontline care setting in Sierra Leone, via a needle-stick injury while treating an individual diagnosed with Ebola. The individual arrived back into the UK on an RAF flight today, Saturday 31 January, and has been taken to the Royal Free Hospital for clinical assessment. They will be monitored for the remainder of their 21 incubation period, in line with PHE's standard procedures for returning healthcare workers. We would request the patient's confidentiality is respected at this time.

Decisions on immediate and ongoing care will be made by the clinical team at the Royal Free Hospital. Any further communications regarding the welfare and clinical management of the individual will be made by the Royal Free Hospital.

PHE is responsible for monitoring the health of individuals returning to the UK from Ebola affected countries. The purpose of PHE's Returning Worker Scheme is to enable a consistent follow-up of workers on their return to the UK, to protect their health and that of the wider public. It operates in parallel to the screening arrangements that are in place for all travellers both on exit from the affected countries and on entry at key ports in the UK.

PHE exists to protect and improve the nation's health and wellbeing and reduce health inequalities. It does this through advocacy, partnerships, world-class science, knowledge and intelligence, and the delivery of specialist public health services. PHE is an operationally autonomous executive agency of the Department of Health. Follow us on Twitter @PHE_uk
Public Health England Press Office
61 Colindale Avenue London
NW9 5EQ

Tel: 020 8327 7901

Published 31 January 2015