Health and Work Service supplier announced
The government's new Health and Work Service in England and Wales will be delivered by Health Management Limited, a MAXIMUS company, it was announced today (25 July 2014).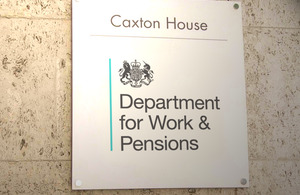 Almost 1 million (960,000) employees were on sick leave for a month or more each year on average between September 2010 and October 2013. As part of the government's long-term economic plan the new service will help employees and employers to manage sickness absence.
Employees on sick leave will be helped to return to work by providing them with an occupational health assessment when they reach, or are expected to reach, more than 4 weeks' sickness absence. Employees will normally be referred by their GPs. A resulting return to work plan will be shared with their employer and GP.
More general health and work advice will be available to GPs, employers and employees via telephone and a website.
The service will be launched in late 2014 with a phased roll-out coming to a close by the end of May 2015. Discussions will take place with the supplier to confirm the exact approach to, and timings of, the roll-out.
Minister for Welfare Reform Lord Freud said:
The introduction of the Health and Work Service is an important step in supporting employees, GPs and employers to manage sickness absence better.

Providing support where it's needed most will help to reduce the length of time employees take off sick which, in turn, will cut sick pay costs, improve economic output and reduce the chances of people falling out of work and having to claim benefits. All contributing to the government's long-term economic plan.
Dr Alasdair Emslie, Chief Medical Officer for Health Management Ltd, said:
We are looking forward to delivering this high quality new service which will provide essential support for those on sickness absence. This is an innovative approach by government and we welcome the opportunity to contribute our expertise to this area.
The company, the UK's largest independent occupational health provider, was awarded the contract following a 5-month tendering exercise.
In Scotland, the Health and Work Service will be delivered by the Scottish government on behalf of the UK government.
Nearly a million employees a year reach the 4-week sickness absence point.
The state spends around £12 billion a year on health-related benefits and £2 billion a year in healthcare and foregone taxes.
Employers face an annual bill of around £9 billion for sick pay and associated costs.
Individuals miss out on £4 billion a year through lost earnings.
Around 300,000 people fall out of work and into the welfare system because of health-related issues.
More information
The government response to the independent review of sickness absence in Great Britain accepted the recommendation to introduce an independent sickness assessment, currently known as the Health and Work Service.
The new Health and Work Service is predicted to cut sick pay costs to business by £80 million to £165 million a year, as well as increase economic output by up to £900 million a year.
A tax exemption of up to £500 a year per employee on payments for medical treatments recommended by the Health and Work Service or employer-arranged occupational health service will be introduced. Without such tax exemption, the payment would be treated as a taxable benefit in kind, liable to income tax and employer National Insurance contributions.
A case manager will support each employee through the service's assessment process to ensure their level of need is correctly identified along with appropriate steps to take to get them back to work.
The Health and Work Service in Scotland will be delivered by the Scottish government on behalf of the UK government. This will enable delivery of a service that builds on existing occupational health capacity and expertise in the public sector in Scotland, while also delivering value for money. The service in Scotland will provide the same service as delivered in England and Wales. It is intended that the services go live in late 2014.
Contact Press Office
Media enquiries for this press release – 020 3267 5129
Press Office
Caxton House
Tothill Street
London
SW1H 9NA
London Press Office (national media and London area enquiries only – not questions about personal claims) 020 3267 5144
Out-of-hours (journalists only) 07623 928 975
England and Wales (local media enquiries) 029 20 586 then 097 or 098 or 099
Scotland (local media enquiries) 0131 310 1122
Follow DWP on:
Published 25 July 2014