Headquarters Land Forces moves to Andover
The move of the headquarters is called Project Hyperion and is due to be completed by the end of July 2010. The Hyperion programme emerged …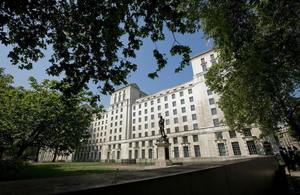 The move of the headquarters is called Project Hyperion and is due to be completed by the end of July 2010.
The Hyperion programme emerged as a result of the Comprehensive Spending Review of 2004 which directed that the various high-level headquarters of each of the three Armed Services be rationalised to drive out unnecessary costs and deliver leaner, more effective HQs.
The Royal Navy and Royal Air Force equivalent programmes delivered a while ago in Portsmouth and High Wycombe respectively.
In the Army's case, the intent was to integrate the Commander-in-Chief Land and Adjutant General's Top Level Budgets into a single unified headquarters and make better use of the estate by collocating personnel on a single site.
After careful analysis of a variety of site options, Andover was chosen as the best location for the new HQ, the site Defence Equipment and Support (DE&S) happened to be vacating under its own collocation programme.
With effect from 1 April 2010, the site has been renamed Marlborough Lines, after John Churchill, 1st Duke of Marlborough, and the two principal office buildings after two of his famous victories in the War of the Spanish Succession - Blenheim and Ramillies.
The buildings have been refurbished to provide a modern 'open plan' working environment and the aim is that this, together with new ways of working, will facilitate an improvement in operational effectiveness by helping the HQ make swifter and better decisions, speak with a single authoritative voice, and be more responsive to changing circumstances.
Brigadier Richard Cary, Hyperion Team Leader, said:
We still have some work to do to build new single living accommodation for both officers and soldiers, but the priority has been to move the headquarters whilst ensuring business continuity generally, and support to operations in particular.

There is never a good time to move, of course, and with the staff in the midst of the SDSR [Strategic Defence and Security Review] to boot we decided to go for it, intending to complete it before the summer leave season.

So far, so good, and we are nearing the end of the move. While there have inevitably been a number of minor problems, it has gone as well as can be expected and most people seem very pleased with their new working environment.

They are also enjoying the gymnasium and fitness suite that we have made out of the old DE&S Technical Building. I am very grateful to all those who have made the move go so smoothly.
Published 13 July 2010