Press release
Headline speakers at Severn Growth Summit announced
Cross border business and authority leaders back UK Government event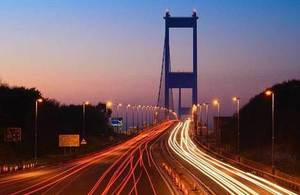 Top business and regional leaders are backing the UK Government's first Severn Growth Summit which will explore how links between the South Wales and South West England economies can be strengthened following the recent reduction and the abolition of the Severn Tolls later this year.
With less than a one week to go until the curtain rises on the sell-out event, Welsh Secretary Alun Cairns has today confirmed the line-up of prominent speakers that will take to the stage to address a 350-strong crowd alongside him at the Celtic Manor Resort event (22 January 2018).
Speakers have today been confirmed as:
Dylan Jones-Evans, Assistant Pro Vice Chancellor with responsibility for enterprise at the University of South Wales
Tim Bowles – Metro Mayor of the West of England
Katherine Bennett – Senior Vice President of Airbus UK
Katharine Finn – Regional Leader for PWC in the West and Wales
Professor Colin Riordan – Vice Chancellor Cardiff University member of the GW4 alliance
Cllr Andrew Morgan – Cardiff Capital Region
Grant Mansfield – Chief Executive, Plimsoll Productions
The Summit will bring together leading experts from local government, education, private and academic sectors from both sides of the Severn, to share their experiences of cross-border collaboration and discuss the vision for further growth opportunities in the future.
Secretary of State for Wales Alun Cairns said:
I'm delighted to be joined at this first Severn Growth Summit by such an esteemed roll call of speakers. They each represent businesses, authorities or industries that that have been at the forefront of cross border collaboration.

This event will provide the perfect opportunity for them to relay their experiences to a sell-out audience, all seeking to widen their horizons across the Severn estuary and beyond.
Taking his place in the six-strong panel of experts will be Tim Bowles, the first West of England Mayor. During his career, he has combined international business roles with public service in the region and will use the summit's platform to share his knowledge to support businesses on both sides of the border to achieve their growth potential.
Tim Bowles, Metro Mayor of the West of England said:
I welcome the opportunity to take part in this event. The West of England and South Wales have strong connections and many shared goals - it's important that we continue to work together for the benefit of all our residents.
Mr Bowles will be joined on the panel by Katherine Bennet, Senior Vice President of Airbus UK, a global company with significant presence in Bristol and Newport and considerable experience of cross-border working across the Severn estuary.
Katherine Bennett, Senior Vice President of Airbus UK said:
Having a strong regional ecosystem of suppliers, partners and academic collaborators is key to Airbus' success. We must ensure that the regional strengths that exist in South Wales and the West of England, particularly around aerospace, defence and digital technologies are enhanced through collaboration and a clear strategy for regional growth.

Airbus welcomes the opportunity to help shape closer working relationships through this inaugural growth summit.
The Summit will include keynote speeches, panel sessions, living case studies, networking sessions and help generate a lasting economic legacy for Wales and beyond.
Published 16 January 2018