Headley Court MediCinema officially opens
Film stars Simon Pegg and Nick Frost were among the guests at a star-studded event at the Defence Medical Rehabilitation Centre at Headley Court today to open the Royal British Legion MediCinema entertainment centre.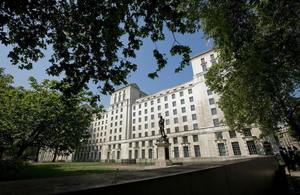 The 'Shaun of the Dead' and 'Hot Fuzz' stars joined patients, other celebrities and VIPs to help open the newly-built, state-of-the-art cinema and entertainment centre for injured Service personnel.
The facility has been built by Medicinema in partnership with the Royal British Legion and is the first ever fully digital, 3D cinema entertainment system dedicated to Service personnel undergoing rehabilitation. The Legion has paid £410,000 towards the capital and operating costs of the centre, which MediCinema will manage.
The new 50-seat complex will show Hollywood blockbusters and other films on current release up to three times a week.
The cinema is fully wheelchair-accessible, with some seats accessible by steps to help those redeveloping their mobility. It is hoped it will make a significant contribution to the recuperation of Service personnel by providing them with some much-needed entertainment during their rehabilitation.
Simon Pegg, who is a patron of MediCinema, said:
What MediCinema has provided for the residents of Headley Court is so much more than just entertainment. It is the chance for these brave servicemen to take a break from the undoubted challenges they face on a daily basis and lose themselves in the wonderful world of film.
Not only that, they get to do it in real style. I'm so proud to be associated with this project.
Stephen Moore, MediCinema's Chief Executive, said:
We are delighted to be providing a cinema of the highest quality at Headley Court. It has only been made possible by the generous support we've been given by the Royal British Legion as well as many people in the film industry.
Commanding Officer of Headley Court, Group Captain Clare Walton, added:
On behalf of the patients and staff of Headley Court, I would very much like to thank all those from MediCinema, the Royal British Legion and my own Headley Court staff who have worked so hard to deliver this magnificent facility.

Our patients will be able to come here and enjoy the full 3D HD cinema experience complete with all the latest sound effects. It is a fabulous addition to our welfare facilities and I know it will be particularly appreciated by patients after a hard day's work in the rehabilitation centre.
Published 27 September 2012