News story
Head of UKTI DSO visits Japan and Republic of Korea
Richard Paniguian, Head of UKTI DSO, visits the Republic of Korea (ROK) and Japan to promote UK defence capabilities.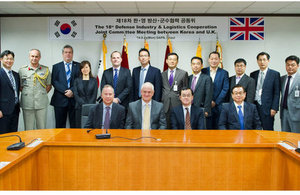 Richard Paniguian, Head of UK Trade and Investment Defence and Security Organisation (UKTI DSO) visited the Republic of Korea (ROK) and Japan from 28 September to 2 October 2014. He was accompanied by David Hatcher, UKTI DSO Regional Director for Asia, Pacific, Australasia and the Americas.
The visit was an opportunity to consolidate the strong relationship between the UK and these 2 countries with a series of high level meetings.
The government to government meeting in ROK provided an opportunity to promote:
UK capabilities for the ROK fighter aircraft project, the largest ever ROK project
UK prospects for sales of aero engine and helicopters.
In Japan both the Japanese Ministry of Defence and the Ministry of Economy, Trade and Industry underlined the new found Japanese willingness to engage in collaboration. Richard Paniguian also addressed 30 senior defence industrialists at the Keidanren and had the opportunity for the first visit to a defence electronics facility.
The visit highlighted significant potential exports for the UK defence industry.
Published 14 October 2014