Head of UK's Armed Forces visits troops in Helmand
General Richards met with the Commander of Task Force Helmand (TFH), Brigadier Ed Davis, at TFH Headquarters in Lashkar Gah. He then travelled…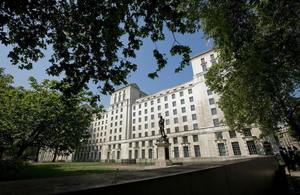 General Richards met with the Commander of Task Force Helmand (TFH), Brigadier Ed Davis, at TFH Headquarters in Lashkar Gah. He then travelled to Nad 'Ali (North) to spend time with Royal Marines from 42 Commando before visiting soldiers from 1st Battalion The Rifles (1 RIFLES) at their base in Nahr-e Saraj (South).
This is the first time General Richards has visited members of 3 Commando Brigade Royal Marines who are serving as part of Operation HERRICK 14 alongside members of the Afghan National Army's 3/215 Brigade and the Afghan Uniformed Police (AUP).
After arriving at Camp Bastion, the UK's largest base in Helmand province, General Richards embarked on a whistlestop tour of the area of operations, and over breakfast in Lashkar Gah discussed the upcoming transition of the district with Brigadier Davis.
General Richards then flew by helicopter to Forward Operating Base Shahzad, which is home to 42 Commando. There, he met with Lieutenant Colonel Ewen Murchison, the Commanding Officer, who updated him on what the Royal Marines have been doing since arriving in theatre almost two months ago. General Richards said:
I am impressed by the progress that is being made by British forces alongside the Afghans and our coalition partners throughout central Helmand. Even since I was last here at the end of last year, I can see evidence that the situation on the ground is improving.
The Afghan security forces are much more capable thanks to the high standard of mentoring they are receiving and, more importantly, they are now better respected in their local communities.

There is still work to do but I am confident we are heading in the right direction and making tangible progress towards transferring security.
General Richards took part in a patrol to the local AUP station where he met members of 2nd Battalion The Royal Gurkha Rifles (2 RGR) who are the Police Advisory Team, mentoring the patrolmen of the AUP. General Richards then paid a visit to the bazaar where he met locals and bought fruit from a trader.
Afterwards, General Richards spent time with members of C Battery, Royal Horse Artillery, who are working alongside 42 Commando in Shahzad. He said:
As Honorary Colonel of the Regiment, it is a privilege to see the work the battery is doing here on the ground playing a vital role supporting operations.
The equipment and technology that our forces have at their disposal now is game-changing and helping to create an accurate intelligence picture which is essential to understanding and defeating the insurgency.
The final leg of the tour involved a visit to Patrol Base 2 to meet members of 1 RIFLES who are partnering the 6th Kandak of the Afghan National Army.
After being briefed on the situation in the Combined Force Nahr-e Saraj (South) area by Lieutenant Colonel James de la Billiere, Commanding Officer of 1 RIFLES, General Richards met with Riflemen and members of A Company, 2 RGR, who are attached to the Battle Group.
The party then returned to Camp Bastion, where General Richards met with staff from Joint Force Support. He visited members of the Royal Logistic Corps who are responsible for sorting and distributing the huge mountains of mail that arrive in theatre on a daily basis and thanked them for the important role they play in boosting morale for those serving.
General Richards spent time at the hospital visiting injured servicemen and women and the doctors and nurses who work tirelessly to treat those who are wounded or fall ill.
Before leaving Camp Bastion, General Richards attended a vigil service for Marine Nigel Dean Mead, from 42 Commando, who was killed in an IED blast on Sunday. Following the service, he spent time with the padres who provide comfort and support to those who lose friends and colleagues.
Commenting on his visit, General Richards said:
As CDS [Chief of the Defence Staff], it makes me extremely proud to come here and see marines, navy personnel, soldiers and airmen working so well together to provide security for the people of Afghanistan.

Despite what is happening in other parts of the world, Afghanistan remains the number one priority for Defence and it is important that those on the ground in Helmand know that they have our full support.
During his visit to Afghanistan, General Richards also spent time in Kabul meeting with senior members of the International Security Assistance Force, as well as President Karzai and the Afghan Defence Minister Abdul Wardak, to discuss the security situation in the country.
Published 20 May 2011