Head of the British Diplomatic Service interviewed by Assabah newspaper
Simon Fraser answered questions from Assabah, a daily Arabic newpaper during a reception held at the British Ambassador Chris O'Connor's Residence.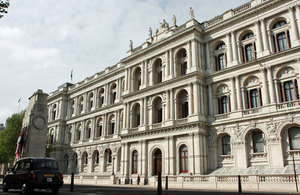 - What is the objective of this visit and why did you choose North Africa for your first trip?
This is my first trip since I became Permanent Under Secretary at the Foreign and Commonwealth Office. I chose Tunisia and Algeria because of their importance in North Africa and because of the solid bilateral relations we have with Tunisia in different sectors. including energy and trade which can be developed further. There is also a wide agenda binding Tunisia to the European Union and we are working on expanding this agenda in a way that serves our mutual interests. We also support Tunisia in its negotiations in Brussels to get the advanced status.
On the other side, we will work on improving relations with North Africa and reinforce regional integration which serves political, economic and security interests and which expands markets, given the fact that the lack of security in the region impacts upon Europe in a negative way. For this reason it is important that collaboration continues in the fight against terrorism in order to protect the region from the dangers surrounding it.
There are four areas that can be developed in our relationship with Tunisia, they are energy, tourism, education and finance, and I will discuss this with Tunisian officials in those fields. Tunisian- British relations witnessed a dynamic and active movement over recent years and we want this to continue in the future.
- What are at this point the British foreign policy's orientations toward the Arab world in general and the Middle East in particular?
We need to understand that foreign policy's orientations are very much connected to economy and prosperity and are not set up on one basis only.
Concerning the Middle East, we advocate negotiations and I think that it is very important for Palestinians to enjoy economic assets that would guarantee a better life. The same applies to other populations in the region.
We have expressed our disappointment toward Israel's refusal to freeze settlements and we hope that both sides will be courageous enough to realise the expected improvement.
- What about Europe moving toward Far-right extremism and all that it includes?
I personally don't think that Europe is moving toward far right extremism. There are rightist parties that scored well in elections such as in Sweden but they still need coalitions with other parties from the middle right and I don't think that Europe is moving toward far right extremism or that the issue is widely propagating.
- What about immigration and the difficulties that non- European immigrants face?
Immigration is a very complicated and important issue and we need to control the number of immigrants coming to the UK. We also take serious measures to prevent illegal immigrants from staying in the UK. Illegal immigration is a source of tension to public services and local groups, and this is the reason why we are fighting illegal employment.
However, we do accept many immigrants from outside Europe who have with good potential and skills.
There is a big discussion around immigration in the UK, as it is the case in the US, and we focus, in our relations with countries that are the main source of immigrants to the UK, on developing their economy and creating opportunities which would be beneficial to all sides.
- Don't you think that the British forces' mission in Afghanistan failed to the extent that Britain had to leave her position to the US forces?
I don't agree. Our mission there was successful and we committed, over years, to work on the stability of that country and our forces are still operational in some areas where fighting remains. We have two aims behind the reason for keeping our forces there. The first is that Afghanistan gets police and security forces that can handle the situation there and provide security. The second is related to developing the political orientation and guaranteeing security in the country, which is a bigger and more dangerous challenge.
- And what about Iraq after seven years of invasion?
I think that Iraq realised a remarkable development and organised successful elections.
- But up to now, Iraq has failed in establishing a government seven months after the elections, is this considered as a success?
It is important that Iraq establishes a government and achieves national reconciliation and this is related to living conditions in the country and to preparations for a good climate for the purpose. I worked, at the beginning of my career (in 1982) in Iraq. Iraq is a very important country with great human potential and natural resources and today Iraq is developing in many areas.
- Is Iraq now better than it used to be before?
I think so, and after the war, a lot was achieved for the Iraqis…
- What has the investigation into Iraq war reached so far regarding the role of the British government in an illegal war on Iraq? And would it be published to the public?
To be honest I cannot speak about the investigation as it is still ongoing and it will take time to reach a conclusion.
Published 8 October 2010