Press release
Hazardous Substances Advisory Committee: Three new members appointed
The Defra Minister for Science and Research, Lord De Mauley, has, with the agreement of the Devolved Administrations, appointed three new members to the Hazardous Substances Advisory Committee.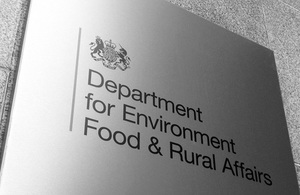 Professor Michelle Baddeley, Professor Richard Murphy and Professor Susan Owens are the three new members appointed for three year terms from 1 June 2013. The relevant expertise and background of the new members is summarised below:
Professor Michelle Baddeley
Currently Chair in Economics and Finance at the Bartlett Faculty of the Built Environment, University College London. An economist, with an undergraduate degree in psychology, Dr Baddeley has been specialising in behavioural economics drawing on insights from psychology, sociology, neuroscience, anthropology, evolutionary biology, computer science, as well as a number of other disciplines.
Recently, she has worked with neuroscientists and experimental psychologists in unravelling the neural and psychological correlates of economic and financial decision-making, especially in the context of risky choices in an uncertain world. Dr Baddeley is on the advisory board of the Technology Strategy Board's Knowledge Transfer Network (Financial Services).
Professor Richard Murphy
Chair of Life Cycle Assessment at the Centre for Environmental Strategy, University of Surrey, and Distinguished Research Fellow at Imperial College London, Professor Murphy has extensive experience in applying data for all types of consumptions and emissions, including any hazardous compounds, in Life Cycle Assessment (LCA) studies.
Professor Murphy has worked with the wood preservation industry since his PhD in 1980 to characterise the environmental (and microbiological) effects of wood preservative biocides and was the first scientist in that area to conduct detailed LCA studies of treated wood products.
Professor Murphy's LCA work has also included assessment of whole life cycles of bioplastics and biofuel systems, and techno-economic assessment of biofuel supply chains in parallel with LCA modelling. Consultant to industry on various bio-based and other materials, bioplastics and LCA, Professor Murphy engages with relevant standardisation and trade bodies (e.g. BSI, Government committees (e.g. GIFNFC, EC-JRC). He has acted as an Expert Witness to the Construction Court on wood preservative treatments. Professor Murphy has a particular interest in the use of LCA approaches to support sustainability assessments and decision-making and in the communication of uncertainty around scientific information and its interpretation.
Professor Susan Owens OBE, FBA
Professor of Environment and Policy and Head of the Department of Geography at the University of Cambridge, Susan Owens has researched and published widely in the field of environmental governance. Her current projects are concerned with relations between science and politics, and with the role of argument, evidence, ideas and advice in policy formation and change. She has also worked extensively on interpretations of sustainable development in theory and practice, particularly in the context of land use and environmental planning. She holds an Honorary Professorship at the University of Copenhagen and received an Honorary Doctorate from the Royal Institute of Technology (KTH), Stockholm, in 2012. She was elected a Fellow of the British Academy in 2011.
Professor Owens is currently a member of the Science Policy Advisory Group of the Royal Society and of the Science Advisory Council of the Stockholm Environment Institute. From 1998 to 2008 she served on the Royal Commission on Environmental Pollution (RCEP). She has previously served on a number of other bodies, including the Research Committee of the Economic and Social Research Council, the Council and Research Committee of the Royal Geographical Society, and the Steering Group for a review of science in Defra. From 2003-2006 she chaired the Governance Working Group of the network of European Environment and Sustainable Development Advisory Councils (EEAC), which seeks to influence the direction of environmental governance within the European Union and its member states.
These appointments were made through a process of open competition, in compliance with the principles of the (1 April 2012) Code of Practice for Ministerial Appointments to Public Bodies.
Notes to editors
The Hazardous Substances Advisory Committee is the successor body to the Advisory Committee on Hazardous Substances which was abolished on 22 July 2012, with the coming into force of the Advisory Committee on Hazardous Substances (Abolition) Order 2012 (Statutory Instrument No 2012/1923).

More details about the HSAC, including its Terms of Reference and a list of its current members and Code of Practice can be found on the Committee website: www.defra.gov.uk/hsac/
Published 11 June 2013