World news story
Hay Festival Arequipa launches its 2017 programme at the British Residence
With over 100 guests from 20 countries, Hay Festival Arequipa has become a strong symbol of UK-Peru cultural ties.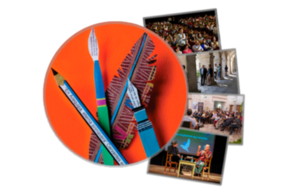 As is now tradition, the 2017 programme of Hay Festival Arequipa was launched on 4 September by HMA Anwar Choudhury and the Festival's organisers at the British Residence in Lima. This is the third time the Hay Festival Arequipa has been hosted by the British Embassy.
The Hay Festival Arequipa will be held from 9 to 12 November in the cities of Arequipa and, for the first time, in Cusco, given its historic importance and attraction as a major tourist destination.
More than 200 guests attended the event, including organisers Cristina Fuentes La Roche, Hay Festival's Latin American and Caribbean Director, and Angela Delgado, Business Development Director of Hay Festival Arequipa. Sponsors and institutional partners such as PromPerú, BBVA Continental, SURA, Anglo American British, and the Gloria Group, also participated.
Speaking at the launch event, Ambassador Choudhury said:
Good literature, music, and the arts in general, unite us in a unique way as peoples—that's what Hay is all about. The Hay Festival is a unique symbol of cultural ties between Peru and the UK, and the British Embassy is very proud to support it.
Over 100 writers, musicians, poets, journalists, scientists, cooks and others will come to Arequipa and Cusco to speak and exchange stories and ideas. Participants from the UK include: Peter Florence, Jago Cooper, Geoff Dyer, Toby Lichtig, Paul Laline, Simon Sebag Montefiore, and Gabrielle Walker.
This year the Festival's organisers hope to reach 25,000 attendees in total. Some 18,000 people attended the 2016 Hay Festival, including the guest of honour, Peruvian President Pedro Pablo Kuczynski.
Tickets
Tickets can be booked online as of 18 September. More information is available here.
Published 7 September 2017