Have your say on new community rights to challenge and run local services
Decentralisation Minister Greg Clark today opened a consultation on how revolutionary new rights for communities should work in practice.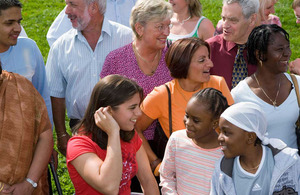 The Community Right to Challenge and Community Right to Bid are 2 important elements of the Localism Bill, designed to hand power back to local people. They will enshrine in law the opportunity for community and voluntary groups to have a greater say over what happens in their local area.
Under the Community Right to Bid, local groups will have a legal right to nominate any vital community asset - including local shops, pubs, libraries and leisure centres - to be assessed for recording on a 'most wanted' list by the local council. The asset could then be listed for 5 years. In that time, the owner of a listed asset will have to tell the council if they intend to sell, which will trigger a window of opportunity or 'community countdown', giving people time to prepare their business plan and raise the funds they need to make a credible bid before it goes on the open market.
The Community Right to Challenge opens the door to a transformation in the way that local public services are run. It will give community or voluntary sector groups, as well as parish councils and council employees, new powers to challenge and take over a local service. This could include running children's centres, social care services and even improving local transport links. Under the new law, councils must respond to this challenge and consider the positive impact the proposal could have on the community. If the proposal is turned down the council must publish the reasons for this. This new right puts voluntary and charity groups on the front foot when it comes to running public services and has the potential to open up new revenue for them.
The consultations will run for 12 weeks from today (4 February 2011), taking views from people, councils and their employees, community groups, voluntary organisations, private businesses and other interested parties.
The consultation documents can be viewed online:
Decentralisation Minister Greg Clark said:
"It's vital that services respond to what local people really want, and give people the chance to do things their way.
"Many voluntary and community groups have outstanding ideas about how they could deliver local services at high quality and reasonable cost, or run the local buildings and businesses that people care about in the best interests of the community.
"We want to make it as easy as possible for them to put the new rights in the Localism Bill into practice - and we welcome thoughts on how."
The Community Right to Bid consultation will consider a number of elements, including:
who should be able to nominate land or buildings for the 'most wanted list', and how
who should be able to trigger the 'community countdown' and whether community groups should be able to buy an asset during that period, before it goes on the open market
what type of land and buildings should be excluded from being put on the list
how long the window of opportunity (or 'community countdown') for community groups should be
The Community Right to Challenge consultation will also consider a number of different options, including:
which services should not be subject to challenge
what information should be included in an expression of interest
how long a local authority has to consider an expression of interest
possible reasons for modifying or rejecting an expression of interest
Published 4 February 2011