News story
Harwell nuclear site in Oxfordshire reaches platinum jubilee
Celebrations are taking place at our Harwell site this festive season as the former research centre, birthplace of the UK nuclear industry, reaches the grand old age of 70.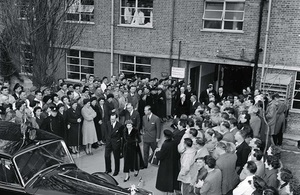 In 1946, just as Britain was recovering from the end of the World War 2, pioneering scientists at Harwell introduced the UK to civil nuclear power – including development of western Europe's first nuclear reactor.
Based on a former RAF airfield, Harwell was initially taken over by the Ministry of Supply to become the Atomic Energy Research Establishment. This then became the UK's centre for research into civil nuclear power with a wide range of experimental facilities.
In total, 14 experimental reactors were built on the site, including the UK's first fast reactor.
So important was Harwell to the UK that, during the past 70 years, the great and the good flocked to see the work first-hand, including Sir Winston Churchill, Margaret Thatcher, and Her Majesty The Queen and HRH the Duke of Edinburgh.
By the late 1980s, the requirements for nuclear research and development had reduced significantly, with Harwell's last 3 reactors closing in 1990. The site, moved into non-nuclear and commercial research, and then to reactor decommissioning, waste management and site restoration.
Over the years, substantial progress has been made on the decommissioning and environmental restoration programme. A quarter of the 102-hectare site has already been de-licensed and released for other uses. The reduction of the site's boundaries has allowed for significant development on the neighbouring campus, as it continues to grow into a major centre for science and innovation.
Today, Harwell is focused on decommissioning its remaining 3 nuclear reactors.
Gary Reid, Harwell Integration Manager, said:
It is amazing to see the significant changes over the decades. What hasn't changed is the unrelenting focus on world-class science and innovation; the focus is now on the safe decommissioning of the site and restoration of the land.
NDA's Chief Financial Officer, David Batters, said:
We welcome the significant progress in safely decommissioning the Harwell site, with over 100 buildings and facilities now demolished. We are working closely with Magnox Ltd on ensuring their plans present value for money and achieve site clearance as soon as possible.
Find out more about Harwell site
View the online photo album: Harwell at 70 - a retrospective
Published 23 December 2016