Harrier bids a final farewell
Tributes were paid today to mark the Harrier aircraft's retirement after 41 years of service.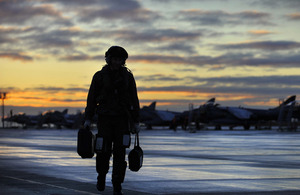 The formation of 16 Harriers took to the skies over Lincolnshire from their base at RAF Cottesmore. Brought into service in 1969 and based at RAF Wittering, this British aircraft was designed to take off and land both vertically and on a short runway.
Well known for its role in the Falklands War, the Harrier went on to serve in many other conflicts including in Bosnia and Iraq in the 1990s.
The RAF and Royal Navy Harrier squadrons joined forces in 2000 to form Joint Force Harrier, based at RAF Cottesmore. These combined Harrier squadrons went on to serve in Sierra Leone, the second Gulf War and most recently Afghanistan.
Air Officer Commanding No 1 Group, Air Vice-Marshal Greg Bagwell, said:
The Harrier is a true icon and stands testament to the innovation and excellence of British design and engineering, and the skill and courage of our airmen.

It has had a truly distinguished service with both the RAF and the Royal Navy, from the South Atlantic to the skies over Afghanistan. It now takes its place in history as one of aviation's greats.
Officer Commanding 800 Naval Air Squadron, Commander Dave Lindsay, said:
The Harrier leaves UK service after an illustrious career that has seen it contribute to every major conflict in the last 30 years. It has been an enormous personal privilege and honour to have been involved with this wonderful aircraft for nearly 20 years, at sea and over land, at peace and in conflict.
I will forever be immensely proud to be able to say I have been a Royal Navy Harrier Squadron Commander.
Last year the aircraft celebrated its 40th anniversary as the Harrier squadrons flew home after five years in Afghanistan.
Joint Force Harrier Commander, Group Captain Gary Waterfall, said:
As the last Harrier Force Commander, it has been a real honour to ensure that the Harrier has been retired from service with all of the respect and dignity deserved.

Today has been a tribute to everybody involved with the Harrier family.
Published 15 December 2010