World news story
Hand in hand with a more dynamic Africa
An impressive Fifth Tokyo International Conference on African Development (TICAD V) in Yokohama helps keep the spotlight on the importance of trade for growth, prosperity and economic development.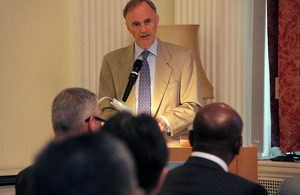 TICAD V brought 39 African Heads of State to Yokohama, along with UN Secretary General Ban Ki Moon, World Bank President Dr Jim Kim and African Union Commission Chair Nkosazane Dlamini-Zuma. One of its key themes was economic growth and the importance of regulatory and infrastructure reform to improve the investment climate. This strongly supports the three areas on which PM David Cameron is determined to achieve change through the UK Presidency of the G8: advancing trade; ensuring tax compliance; promoting greater transparency.
UK delegate to TICAD V, Joy Hutcheon, DFID Director General for Country Programmes said:
This is a shared agenda between developed and developing countries – resonating in Africa and around the world… Over the last three decades, the G8 has taken steps together to support global prosperity, create jobs, and generate growth … we look forward to working with Japan and Africa as the hard work begins to achieve the ambition we have set ourselves.
Following TICAD V British Ambassador and former FCO Director for Africa Tim Hitchens hosted a seminar which established a platform for UK and Japanese companies to be able to directly collaborate on future African projects. In his opening speech he said:
Economic growth is the most important means of raising people's incomes and reducing poverty in Africa – it creates jobs and opportunities for poor people to support their families and build more stable futures.
The G8 Summit will take place at Lough Erne in Northern Ireland on 17-18 June. Find out more information on the UK's G8 Presidency.
Read more about the work of the Department For International Development.
Published 10 June 2013