Press release
Hancock: Record year for the high street
According to government estimates the value of retail sales in 2014 are forecast to be at an all-time high for the UK.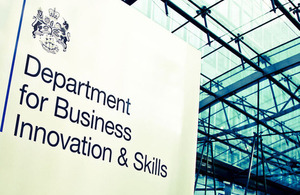 According to government estimates the value of retail sales in 2014 are forecast to be at an all-time high for the UK, around £342 billion. This will be a rise of £48 billion on 2010.
Estimates from the Department for Business, Innovation and Skills also show this has been a record year for smaller firms who have turned over £72 billion in the last year.
The booming retail sector now employs 10% of the UK workforce, equivalent to over 3 million people and nearly 90,000 apprentices.
The advent of new "sale" days such as Black Friday and Cyber Monday are expected to have contributed to the record jump in sales, with the pre-Christmas November sales up by 5.2% on last year.
Yesterday (23 December 2014) looks set to be the UK high street's busiest shopping day, with spending predicted to peak at £1.3 billion for the day.
More than 16 million people shopped in small independent businesses on 6 December which was Small Business Saturday - 2.7 million more shoppers than the same time last year. Tills in independent shops and small businesses rang in an average of £30.56 per person, which equates to a total of £504 million across the UK as a whole – up £36 million on last year.
Business Minister Matthew Hancock said:
The return of the high street is fantastic news and goes to show that we are on course for prosperity. More business are starting up, thriving and creating jobs for people.

We have consistently backed retail and the review of business rates announced in this year's Autumn Statement should be another big boost for Britain's high streets.

The rise of independent retailers is testament to the wave of entrepreneurialism sweeping the UK as part of our strong economic recovery.

But there's more to do to make Britain the best place in the world to start and grow a business.
Nick Boles, Minister responsible for Retail said:
High streets have cause for celebration after a bumper year of sales. It's particularly pleasing to see independent shops doing so well.

We are determined to help them thrive and look forward to 2015, which I want to make an even more successful year for Britain's retailers.
Earlier in December 2014 the Chancellor announced a number of measures to back Britain's high streets and make sure these are once again a hub for local business. The government will lead a thorough review of business rates to make sure these are fit for purpose and work for – not against – the high street.
Government has also reduced the burden of regulation and inspections so that small firms can focus on running the shop and not ticking boxes and by scrapping the jobs tax for apprentices government will open up thousands more retail opportunities. These initiatives have been warmly welcomed by the retail sector, who expect the Autumn Statement measures to have a significant impact on the high street.
Commenting on the figures Helen Dickinson, Director General of the British Retail Consortium said:
The incredibly competitive nature of the retail industry means that there are always great opportunities to start up a business. With the meteoric rise of internet shopping (£1 in every £5 spent on non-food items is now spent online), barriers to entry in retailing are lower than ever.

Established retailers are also doing well and the crucial shopping period in the run up to Christmas (including Black Friday) saw total sales up 2.2% compared with November last year.

We're delighted that the government has decided to back British retailing by committing to review the Business Rates system.
Commenting on the figures James Lowman, Chief Executive of the Association of Convenience Stores said:
The government supports us by helping us to think about the issues facing retail in the future and by working to establish the right conditions for the retail sector to invest and grow.

We are delighted that the Chancellor has listened to our concerns on business rates by committing to a full review. Local shops will welcome the 2% cap on rates increases and the extension of the higher threshold for small business rate relief, alongside the increased £1,500 rates discount for shops on the high street.
Notes to editors
Business Minister Matthew Hancock has limited availability for broadcast interviews on Wednesday 24 December. To submit a media bid for the Minister please contact the Department for Business, Innovation and Skills press office on 0207 215 3234.

Sources of data:
ONS Retail Sales Index
ONS Workforce Jobs and Self Employed Jobs
Estimates based on BIS Business Population Estimates
Figures on Small Business Sunday from American Express Commissioned Survey
Published 24 December 2014