Hammond: 'No change of policy in Afghanistan'
Defence Secretary Philip Hammond today addressed the House of Commons in response to reports that NATO's policy regarding ISAF and Afghan troops working together has changed.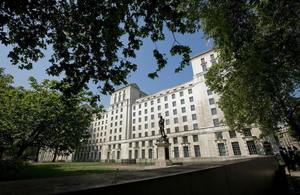 Below is Mr Hammond's answer to a parliamentary urgent question which asked him to make a statement on the change of NATO's strategy in Afghanistan:
There has been no change of policy in Afghanistan. As I told the House yesterday, the security of our deployed forces in Afghanistan or anywhere in the world remains a Defence priority. The safety of our Service personnel is an issue that all in government and in the military chain of command take extremely seriously.
In respect of the International Security Assistance Force [ISAF] fragmentary order issued on Sunday, not for the first time the media have become a little overexcited. It might help the House if I quote a press release issued by the Commander of ISAF forces in Kabul this morning.
He stated that: "recent media coverage regarding a change in ISAF's model of Security Force Assistance [SFA] is not accurate. ISAF remains absolutely committed to partnering with, training, advising and assisting our ANSF [Afghan National Security Forces] counterparts. The ISAF SFA model is focused at the battalion-level and above, with exceptions approved by senior commanders. Partnering occurs at all levels, from Platoon to Corps. This has not changed.
"In response to elevated threat levels resulting from the 'Innocence of Muslims' video, ISAF has taken some prudent, but temporary, measures to reduce our profile and vulnerability to civil disturbances or insider attacks … The SFA model is integral to the success of the ANSF, and ISAF will return to normal operations as soon as conditions warrant."
The Commander of ISAF Joint Command has effectively directed a change to the level at which partnering and advising are scrutinised and authorised. Most partnering and advising was already at the kandak, or battalion, level and above. The change does not mean that there will be no partnering below that level. The need for that will be evaluated on a case-by-case basis and approved by the regional commanders in theatre.
The regional commander in Regional Command (South West), where British forces are based, is Major General Mark Gurganus, a US Marine Corps general. He has endorsed the approach currently being taken by the UK-led Task Force Helmand, including mentoring and partnering at below kandak-level. That means that the UK partnering and mentoring operations will continue substantially unchanged by this order.
It is normal practice that all elements of our operations are subject to oversight by the chain of command, and operations will continue to evolve and risk assessments will continue to be updated. The ANSF capability for independent operations is, in any case, steadily increasing, and our level of partnering activity on the ground has therefore been steadily decreasing.
The personal safety of our deployed personnel remains a Defence priority, and we will take every step necessary to minimise the risk to them. We have always kept the level at which we mentor the ANSF under review and will continue to do so through the process of security transition.
British commanders on the ground retain the flexibility to mentor at the appropriate level in consultation with the regional commander. We have a strategic plan that takes us to the end of combat operations in 2014 while strengthening the ANSF to take over security responsibility from us. I have every confidence in the way that Commander ISAF is executing that plan.
Published 18 September 2012